ITTO and Japan International Cooperation Agency renew commitment on cooperation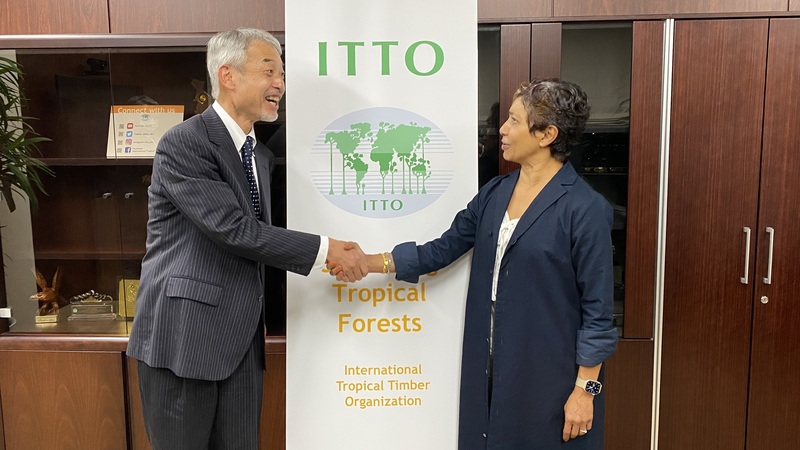 ITTO Executive Director Sheam Satkuru (right) and JICA Director General, Global Environment Department, Morita Takahiro. Photo: R. Carrillo/ITTO
ITTO and the Japan International Cooperation Agency (JICA) have agreed to continue their collaborative work to assist tropical countries and stakeholders in conserving and sustainably managing their forests under a new memorandum of cooperation signed on 17 October 2022 by ITTO Executive Director Sheam Satkuru and JICA Director General, Global Environment Department, Morita Takahiro.
Tropical forests are essential for planetary well-being and for solving global problems such as climate change and biodiversity loss. On the other hand, large areas of the world's tropical forests are at risk of being degraded and lost, and action is needed to minimize this and to boost the livelihoods of forest-dependent people.
The new memorandum of cooperation (MOC) for 2022–2026 will extend the collaborative work between ITTO and JICA that began in 2010. It will enable both organizations to continue working jointly on identifying, developing and implementing actions to promote the conservation and sustainable use of tropical forests in ITTO producer member countries. ITTO and JICA will also jointly promote capacity building, information exchange, experience-sharing and knowledge-sharing among countries and stakeholders to advance the implementation of sustainable forestry in the tropics.
Ms Satkuru said the MOC is an opportunity to take advantage of the complementary strengths of the two organizations.
"JICA has many tropical-forest-related initiatives, and ITTO is focused on the sustainable use and conservation of tropical forests and a legal and sustainable tropical timber trade," she said. "Moreover, given that ITTO is headquartered in Japan, there is already a strong sense of alliance between us in achieving our common objectives. We believe there are strong advantages to continue our already existing cooperation framework, in accordance with our mandates, to better serve ITTO member countries."
The collaboration will take place within the framework of ITTO's Strategic Action Plan 2022–2026 and the piloting of the Organization's new programmatic approach and its four programme lines, as well as JICA's Global Agenda in Natural Environment Conservation.
"JICA and ITTO have been working together for many years to assist tropical countries in their efforts to use and conserve their forests as part of sustainable development," said Mr Morita. "We want to continue this cooperation because we believe it creates synergies and increases efficiency and effectiveness, ultimately benefiting our partners in developing countries."
The ITTO/JICA Working Group on Forests will annually review and update the activities undertaken under the MOC and propose new joint initiatives.