ITTO and Soka University agree to increase collaboration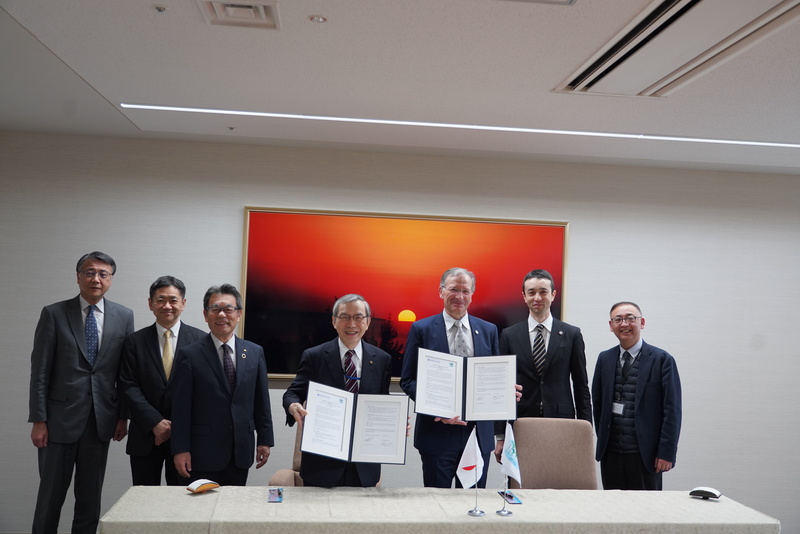 Soka University President Dr Baba (fourth from the left) and Dr Dieterle (fifth from the left) hold copies of the signed memorandum of understanding during the signing ceremony, accompanied by staff from both institutions. Photo: R. Carrillo/ITTO
ITTO and Soka University have agreed to collaborate with the aim of increasing the knowledge and exposure of Soka University students to global environmental issues through the exchange of publications and other information materials, speakers, the joint organization of seminars, and opportunities for internships at ITTO.
ITTO Executive Director Dr Gerhard Dieterle and Soka University President Dr Baba Yoshihisa signed a memorandum of understanding between the two institutions on 25 February 2020 at the Soka University campus in Hachioji, Japan.
At the signing ceremony, both parties exchanged views on global environmental issues, such as the adverse effects of climate change and the need to build resilient societies; the conservation and sustainable use of tropical forests, particularly in the Amazon and Congo basins; the challenges facing a growing global population and the additional pressure a larger population will put on forest resources in the supply of wood and other forest products and environmental services; the imperative to promote sustainable consumption and production patterns; and the need to build the capacity of younger generations to respond to such challenges.
Read the article published in Seikyo Shimbun (in Japanese)