ITTO presents lecture at Yokohama [Kokusai] International Forum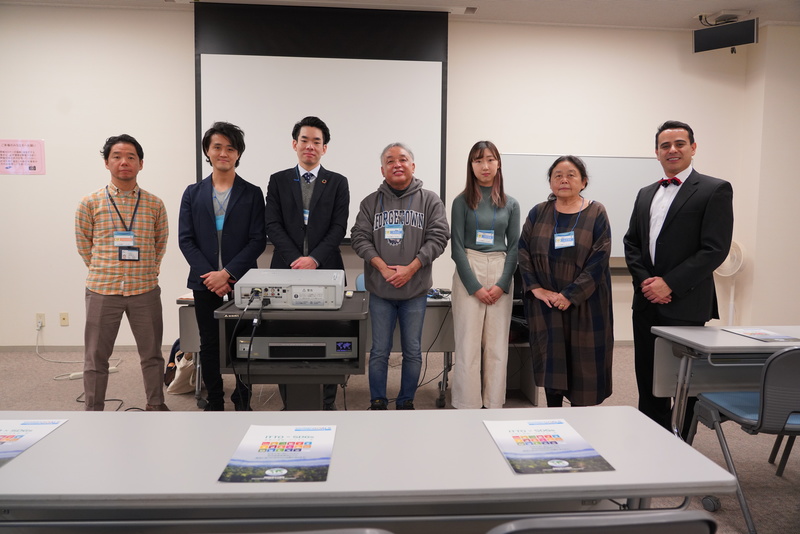 Some participants and ITTO's Communications and Outreach Officer (right) pose after the lecture at Yokohama International [Kokusai] Forum. Photo: ITTO
ITTO Secretariat staff member Ramón Carrillo delivered a lecture on 15 February 2020 at the Yokohama International Forum in Yokohama, Japan, on the contributions of tropical forests and ITTO to the Sustainable Development Goals (SDGs). The presentation explored the role of sustainably managed productive tropical forests and the associated trade of timber and other forest products in addressing major global challenges, including climate change, poverty and biodiversity loss. In particular, said Mr Carrillo, products harvested in sustainably managed forests are viable alternatives to many less-environmentally friendly, unsustainable materials and therefore can help in achieving several of the SDGs.
ITTO has a mandate to promote the expansion of international tropical timber trade from legal and sustainable sources. Through policy development, field projects and other work, ITTO assists countries in their efforts to achieve the SDGs.
Mr Carrillo presented examples of the contributions of sustainable tropical forest management and associated trade in forest products to the following SDGs:
SDG 1: No poverty
SDG 2: Zero hunger
SDG 3: Good health and well-being
SDG 4: Quality education
SDG 5: Gender equality
SDG 6: Clean water and sanitation
SDG 8: Decent work and economic growth
SDG 12: Responsible consumption and production
SDG 13: Climate action
SDG 15: Life on land.
For more details (Japanese only): http://yokohama-c-forum.org/wpforum/forum2020_04/