ITTO speaks with Japanese private sector on international tropical timber trade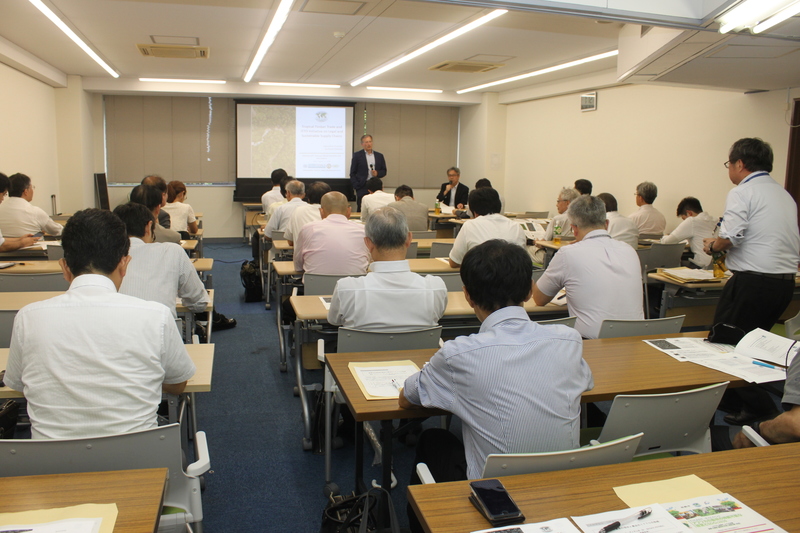 Dr Dieterle presents at a seminar on global trends of tropical timber trade hosted by the Japan Forestry Association. Photo: Japan Forestry Association
ITTO Executive Director Dr Gerhard Dieterle presented on global trends in the tropical timber trade in August 2019 at a one-day seminar hosted by the Japan Forestry Association. In his presentation, Dr Dieterle spoke about the outlook for demand for timber and wood products, the substitution effects of the increased use of wood products for mitigating climate change, and the need for more investment in afforestation and reforestation.
Dr Dieterle introduced ITTO's recent initiative, "Legal and Sustainable Supply Chains". He informed participants of the upcoming International Forum: Together towards Global Green Supply Chains, co-hosted by ITTO, which will be held in Shanghai, China, in October 2019. He also touched on the growing role of China in global tropical timber trade.

The seminar was attended by more than 30 private-sector representatives from Daiken Corp., Ishinomaki Plywood Manufacturing, the Japan Afforestation Association, the Japan Federation of Wood Industry Association, the Japan Forestry Technology Association, Japan Kenzai, the Japan Natural Wood Decorated Plywood and Veneer Association, JK Holdings, the Japan Plywood Inspection Association, the Japan Wood Market Federation, the Japan Woodchip Manufacturers' Association, Key Tec, Noda Corp., Sojitz Corp., SMB Kenzai, Sumitomo Forestry, and others.

Participants appreciated the analysis made by Dr Dieterle and expressed interest in ITTO's role in the comparability and harmonization of standards on legality and sustainability in the international trade of tropical timber and timber products.