TOP >
Restoration & planted forests
Restoration & planted forests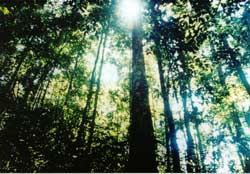 Healthy forests play an important role in the lives of millions and possibly billions of people. They disgorge clean water into streams and reservoirs, dish up hundreds of edible plants and animals, dispense medicines, and stand ready to supply industrial and local needs for timber and fuelwood. By definition, degraded land and degraded forests cannot do these jobs. Water becomes soiled, valuable plants and animals vanish, and supplies of timber and fuelwood dwindle.

The extent of degraded forests and lands in the tropics is large and getting larger. Improving forest management will help limit this expansion, but what is to be done with the 800 million hectares or so of forests and forest lands that are already degraded? ITTO worked with partners such as IUCN, the Centre for International Forestry Research, the Food and Agriculture Organization of the United Nations, and the Worldwide Fund for Nature to develop Guidelines for the restoration, management and rehabilitation of degraded and secondary tropical forests. These guidelines were introduced to policy-makers and practitioners through a series of regional and national-level workshops. A manual, Restoring Forest Landscapes: An introduction to the art and science of forest landscape restoration, has also been developed and published by ITTO in cooperation with IUCN to clarify the concepts and strategies associated with forest landscape restoration. National workshops are being conducted in selected countries to promote the implementation of the guidelines and the use of the manual. In addition, ITTO has developed a field program to assist governments and local communities to restore and manage degraded and secondary forests for the benefits such forests can provide.

ITTO also supports the establishment of plantations with the primary purpose of producing timber and/or fuelwood. In 1993 it published Guidelines for the establishment and sustainable management of planted tropical forests and has funded a field program to stimulate plantation establishment and management, mainly by communities. In Togo, an ITTO project has assisted a community to harvest, expand and manage a neglected teak plantation: in the process, the community has improved its water supply, restored a medical clinic and established other income-generating industries. They have also protected remnant natural forest and initiated a process of restoration.

ITTO is also promoting activities under the AR-CDM mechanism of the Kyoto Protocol that can contribute to increasing the extent of forests and forest resources. In this connection, an ITTO project is being implemented by the Secretariat to build capacity for the development of AR-CDM projects. In Colombia, another ITTO project seeks to curb the degradation of about 72,000 hectares of forests with the involvement of local communities and the participation of international investors through the AR-CDM mechanism. A Letter of Intent has already been signed by the World Bank for the sale of 470,000 tons of CO2, and the project continues to serve as a broker between potential buyers and sellers.

For a detailed account of ITTO's action agenda, please refer to the ITTO Action Plan 2008-2011, or click on Resources and Project portfolio to see more about ITTO's work on restoration & planted forests.