TOP >
Criteria & indicators
Criteria & indicators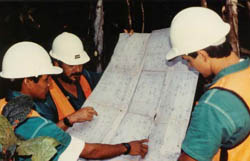 ITTO pioneered the development of criteria and indicators (C&I) for the sustainable management of natural tropical forests in the early 1990s and has continued to provide leadership in their review and improvement. C&I are tools used to define, assess and monitor progress towards sustainable forest management. They list the main factors that influence the health and productivity of a forest ('criteria') and suggest indicators that, if measured over time, will help managers assess the extent to which management practices are consistent with the sustainability of forests and of forest-dependent communities.

C&I are not an end in themselves; the crucial thing is that they are applied, and that management is adapted accordingly so that the forests remain capable of delivering the goods and services required of them. For this reason, ITTO devotes considerable resources to the practical application of C&I. For example, the Organization conducts national-level workshops in tropical member countries to train forest concessionaires, industry workers and government officials in applying the C&I, both nationally and at the forest management unit level. In addition, many of the Organization's projects assist member countries to put the C&I into common practice.

C&I are the focus of considerable policy work at the international level; since the original C&I for the sustainable management of natural tropical forests were first developed, similar processes have been initiated for a number of ecological zones and regions. Understanding and harmonizing approaches to these processes is important for ensuring the consistency of forest management policies across the globe. As part of its contribution to the global process, and in partnership with FAO and others, ITTO supported Guatemala's National Forest Service in the organization of the International Conference on Criteria and Indicators for Sustainable Forest Management in February 2003. A follow-up international expert consultation was held in the Philippines in March 2004, also in collaboration with FAO. A third international workshop was held in Poland in June 2006, in collaboration with the Montréal Process, the Ministerial Conference on the Protection of Forests in Europe (MCPFE) and FAO.

For a detailed account of ITTO's action agenda, please refer to the ITTO Action Plan 2008-2011, or click on Resources and Project portfolio to see more about ITTO's work on criteria & indicators.
Collaboration among C&I processes
This report presents the results of the Inter-Criteria and Indicator Process Collaboration Workshop.
Ongoing training for applying ITTO's C&I
ITTO has an active program for training forest managers and concessionaires in the use of its criteria and indicators for sustainable forest management.

How to audit forest management
ITTO has developed a training package for the auditing of forest management.