Community forestry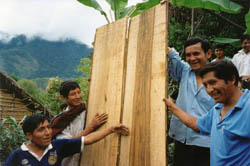 'Community forestry', the management of forests with or by local communities, is an important mechanism for addressing social equity while pursuing the sustainability of the forest resource.

ITTO supports community forestry approaches developed within member countries and, in many cases, implementation is by small, non-government organisations. For example, the Evergreen Club, an environmental NGO in Ghana, promoted the participation of primary-school children and their teachers in local tree-planting and reforestation activities; the increased awareness among the children of the need to protect as well as replant trees was also important for increasing awareness among their parents and other villagers. Maintenance and protection of woodlots were assured by the agroforestry system using intercropping of trees with food crops.

Another community-based project supported the 31st December Women's Movement, a Ghanaian NGO, and indigenous communities in the Worobong District of the East Region of Ghana, for the rehabilitation of degraded forest lands. This collaborative approach involved the executing agency, communities and governmental agencies at the local and district levels. The project contributed to increasing local communities' incomes by establishing and operationalizing cassava-processing machines to prevent their cassava crop from rotting. This was a key incentive to get the local community (in particular women) involved in forest rehabilitation and restoration activities and to ensure the sustainability of the project.

Community forestry may be the only effective way of achieving sustainable forest management in many forest areas, but it is not easy to implement. Perhaps the biggest stumbling block is a lack of community-based tenurial rights over forestlands: without long-term rights, people see little sense in investing the time, labour and other resources needed to achieve sustainable forest management. Therefore, the most successful projects are those that build on government initiatives to grant tenurial rights to communities.

For example, an ITTO-financed project is being implemented in Nueva Viscaya in the Philippines to support a Community Based Forest Management Agreement between the national Philippine government and the local community federation, which comprises three farmers' associations (the Kakilingan Upland Farmers Association; Kalongkong Upland Farmers, Inc., and the Vista Hills Upland Farmers Association). This agreement confers tenurial security and incentives to develop, use and manage allocated portions of forest lands pursuant to an agreed community resource management framework for a period of 25 years, renewable for another 25 years. It includes a production-sharing agreement designed to ensure that the benefits of sustainable use, management and conservation of forest lands and natural resources are shared equitably amongst the community.

Community forestry requires (often lengthy) participatory and conflict resolution processes, which themselves must be supported by detailed background information, the education and organisation of stakeholders, and the winning of trust. Long-term support is therefore essential; the Nueva Viscaya project, for example, began in 1993 and still enjoys ITTO backing. ITTO also works with governments to increase awareness of the benefits of community approaches to forest management. For example, its Guidelines for the Restoration, Management and Rehabilitation of Degraded and Secondary Tropical Forests recommend that policies give priority to the interests and knowledge of local stakeholders and clarify and legitimise equitable tenure, access, use and other customary rights in degraded and secondary forests among national and local stakeholders.

For a detailed account of ITTO's action agenda, please refer to the ITTO Strategic Action Plan 2013-2018, or click on Resources and Project portfolio to see more about ITTO's work on community forestry.