ITTO at work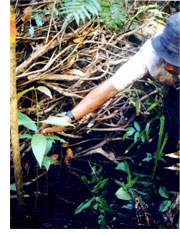 ITTO is an action-oriented organization. It formulates policies relevant to its objectives and assists members to implement those policies through a programme of pre-projects (or scoping studies), projects and other activities. Most are implemented by national and local-level organizations, including those in government, civil society and the private sector, and a small secretariat supervises, monitors and evaluates the field programme under the direction of the International Tropical Timber Council.
ITTO's action programme covers a broad range of issues related to tropical forest management, the marketing and trade of tropical timber and other forest products, and the development of forest-based industries. For example, projects are under way in eight countries to establish transboundary conservation areas, while others aim to generate employment and improve livelihoods in struggling communities by assisting value-added timber processing; others are designed to increase the transparency of the tropical timber trade. For detailed information on ITTO's ground-level activities, choose from the menu on the left.
Funding for the action programme comes from grants provided by donor members (predominantly the governments of Japan, Switzerland and the United States) and some private institutions (such as Ito-Yokado, a Japanese supermarket chain). In November 2008 the total value of the more than 800 projects, pre-projects and activities initiated during the life of the Organization was US$300 million.
For a detailed account of ITTO's action agenda, please refer to the current ITTO Action Plan.
Major areas of work
A commitment to achieving exports of tropical timber from sustainably managed forest resources

Managing and conserving tropical forests

Improving the transparency of and expanding international markets for tropical timber

Developing efficient and value-adding tropical forest-based industries

Raising the capacity of forest stakeholders to manage and benefit from their resources