TOP >
Timber trade & markets
Timber trade & markets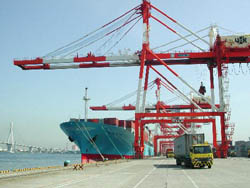 ITTO plays a key role in collecting, analysing and disseminating information on the world timber situation. Member countries have been assisted through projects to strengthen their statistical and data collection and reporting functions. In addition, the ITTO Secretariat regularly reports on tropical timber production, trade and market trends and investigates a host of market-related issues. Statistics on tropical timber production, trade and prices, maintained in computer databases at ITTO headquarters, are analysed and published each year in the Annual Review and Assessment of the World Timber Situation. Data from ITTO's Annual Review are widely used by member governments, trade groups and environmental NGOs.

Many countries, both within and beyond the tropics, need more help to deliver forest-related statistical information to an adequate standard. A system of nominating statistical correspondents in member countries developed by ITTO has been particularly successful and has led to improved statistical information in several countries. ITTO also convenes training workshops to give participants, in many cases their country's nominated statistical correspondent, hands-on experience in the collection, analysis and dissemination of forestry statistics. Ongoing efforts are required due to the often rapid turnover of staff charged with carrying out statistical work in countries.

In addition to its country-level work, ITTO collaborates with a number of other international organizations (including Eurostat, FAO and the United Nations Economic Commission for Europe) through an inter-secretariat working group to improve and streamline the reporting of forestry statistics. The main output of this working group is the Joint Forest Sector Questionnaire, through which common forestry statistics are now collated globally.

In addition to the annual statistical review produced by the ITTO Secretariat, the Organization's Tropical Timber Market Information Service (MIS) delivers a bulletin every two weeks containing market news, prices and trends for a wide range of tropical timber products to trade groups, executives and analysts worldwide. This is part of the effort by ITTO to promote a competitive timber industry and a transparent trade in tropical timber products. The MIS bulletin publishes a range of data and information to meet producers' needs for information on trends and developments in the consumer markets as well as information from producer countries of interest to timber buyers.

For a detailed account of ITTO's action agenda, please refer to the ITTO Yokohama Action Plan, or click on Resources and Project portfolio to see more about ITTO's work on timber trade & markets.
Trade transparency
The inadequacy of trade-related information is a major stumbling block to developing and sustaining valuable markets for tropical timber products.