Status of Tropical Forest Management 2005
Latin America & the Caribbean
Colombia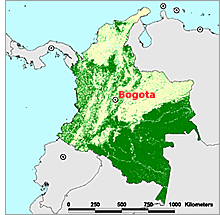 The overall forest management situation in Colombia is not clear. On the one hand, advances have been made at the policy level in the priority activities identified under ITTO's Objective 2000, including the approval of a forest policy, new forestry legislation and the formulation of forest management plans. Forests are administered within the wider context of environmental management, and existing policy goals emphasize protection and conservation functions as well as forest restoration and forest land rehabilitation. However, there is as yet no clear designation of the PFE and inadequate control of forest resources on the ground, in particular in the Amazon region; nor are silvicultural methods applied in natural production forests.
Key points
Colombia has a rich and largely unexploited forest resource in the Amazon Basin.
Indigenous communities own 22.1 million hectares of forest, mostly in the Amazon, and Afro-Colombians about 5.4 million hectares, mainly in the Pacific region.
The PFE is estimated to be 14.5 million hectares – although this has not been designated officially – of which 5.65 million hectares is production PFE and 8.86 million hectares protection PFE.
The estimated area of natural-forest production PFE under SFM is at least 200,000 hectares. Little information is available on the status of forest management in the protection PFE.
There is a well-established and well-developed program to establish planted forests. A new forest law awaiting presidential approval would promote an increase in plantations to about 1.5 million hectares.
There is a lack of forest law enforcement and transparency in the application of laws that deal with forest management. Because of armed conflict, there is little long-term management of or control over resources.
No specific standards have been established for large-scale production forestry and there are no concession policies.
However, the new forest law awaiting presidential approval seeks to make major reforms to the management of natural forests.
National institutions appear to be under-resourced and unable to maintain an effective presence in the field.
There is a well-established protected area system and a well-established system to monitor biodiversity.
The wider role of forests in providing environmental services is recognized.