Sustainable forest management means music to the ear
1 October 2019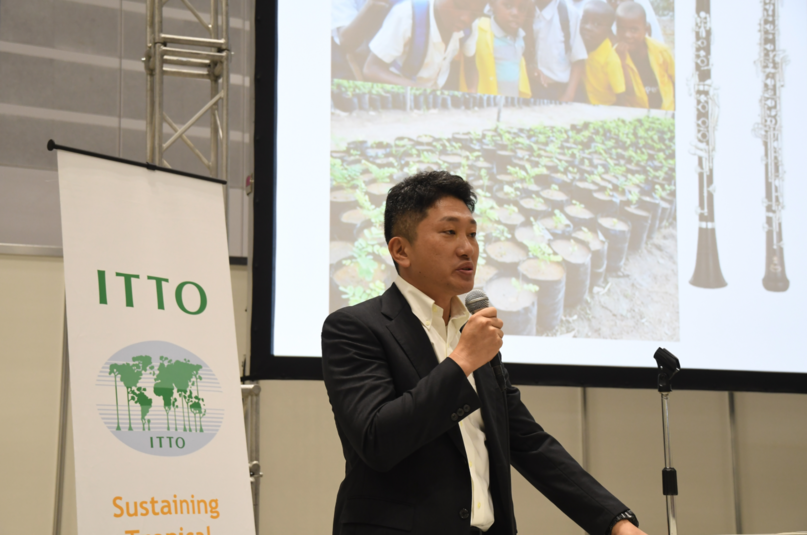 A sustainable forest management (SFM) model focused on a high-value species is bringing important benefits for local people in Tanzania and helping ensure a long-term future for forests and communities, according to Nakai Kazushi from Yamaha Corporation.
Mr Nakai was speaking at an ITTO side-event at TICAD 7 in Yokohama, Japan. The side-event, which was held on 28 August 2019, was co-organized by ITTO, Japan's Forestry Agency and the Japan International Cooperation Agency, with the support of Japan's Ministry of Foreign Affairs, the City of Yokohama and Kanagawa Prefecture.
Mr Nakai informed side-event participants about his company's efforts to implement a sustainable procurement process for African blackwood (
Dalbergia melanoxylon
) in collaboration with local communities in Tanzania. Mr Nakai said the manufacture of musical instruments requires high-quality timbers, and African blackwood is used in the production of clarinets, oboes and bagpipes. The species is listed in Appendix II of the Convention on International Trade in Endangered Species of Wild Fauna and Flora (CITES), meaning that its trade is controlled.
Mr Nakai said that Yamaha was developing a business model, in cooperation with local communities, that will secure long-term benefits for communities through the production of high-quality timbers while also restoring productivity in degraded natural forests.
Enrichment planting of African blackwood has been carried out since 2017, enabled by the establishment of a local nursery, which provides villages with seedlings—3500 seedlings have been planted since 2017 with a survival rate of 80%.
The pilot activity has not been problem-free, said Mr Nakai, with challenges including a lack of financing to implement SFM at the local level and low seedling quality. Nevertheless, work is underway to address these challenges, and meanwhile the model is generating rural employment. Ultimately, Yamaha aims to establish a value chain that helps to develop local industries and increases the value of the forests.
Watch ITTO's interview with Mr Nakai
Download Mr Nakai's presentation below