Side-event explores tropical forest-based solutions to climate change
19 December 2019, Yokohama, Japan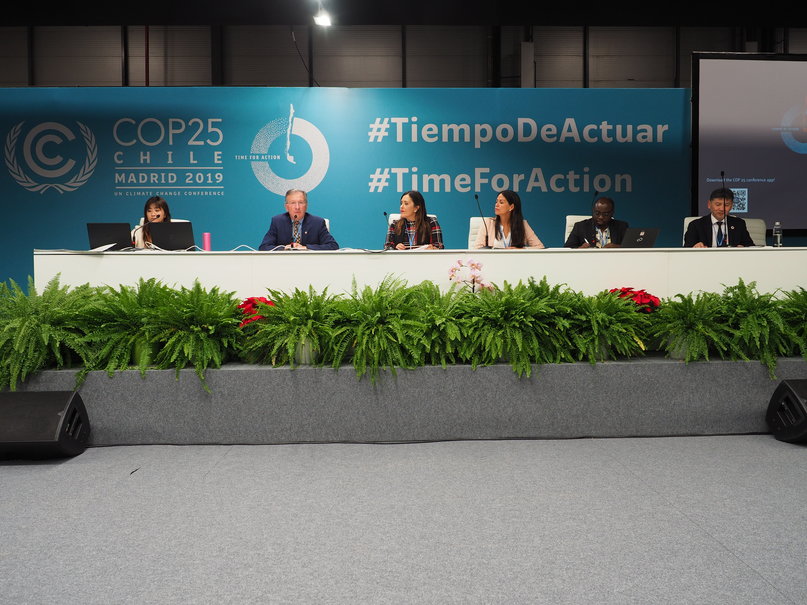 Green tropical timber supply chains, biological corridors and forest monitoring are all important components of forests-based solutions to climate change, according to a side-event organized by ITTO and the Japan Forestry and Forest Products Research Institute (FFPRI) at the 25th session of the Conference of the Parties (COP 25) to the UN Convention on Climate Change (UNFCCC) in Madrid, Spain.
The side-event, "Forest-based Solutions in the Tropics for Combating Climate Change and Achieving the SDGs", was held on 11 December 2019 at the 25th Conference of the Parties to the United Nations Framework Convention on Climate Change.
ITTO Executive Director Dr Gerhard Dieterle drew the attention of participants to the anticipated global growth in population, especially in Africa, which, among other things, would increase wood demand in the same way as for food. He referred to a study indicating that forest degradation accounts for two-thirds of overall carbon loss from forests; such degradation exacerbates the widening supply gap for timber and wood-based energy.
Dr Dieterle said that not only forests but also forest products—the "afterlife" of trees—are key to achieving climate-change mitigation goals. According to a special report by the Intergovernmental Panel on Climate Change published this year, sustainable forest management can maintain or enhance forest carbon stocks and maintain forest carbon sinks, including by transferring carbon to wood products. Wood products, in turn, can store carbon over the long term and also substitute for emissions-intensive materials, thereby reducing emissions in other sectors.
This scientific acknowledgement is significant for the forest sector because it underlines that development, livelihood needs and climate action are inseparably connected, said Dr Dieterle. This was also a key message in the nature-based solutions initiative announced at the UN Climate Action Summit held in New York on 23 September 2019—forests will be lost if there is a lack of sustainable development in forest-dependent communities.
Restoring and re-establishing productive and multifunctional forests is essential for people and the planet, said Dr Dieterle, but the full range of benefits can only be achieved if the whole supply chain from the forest to the market is green and deforestation-free. Tropical producers, however, often lack adequate resources, enabling incentives, good governance frameworks, information, knowledge and technical knowhow to shoulder this complex task.
Dr Dieterle informed participants about ITTO's core mandate and expertise, which is to support governments and the private sector in overcoming these and other hurdles. One way in which ITTO is doing this, he said, was by promoting a global green supply-chain network among tropical producers, the processing industry, traders and buyers in end markets. The aim of the initiative is to develop capacity, share information and build networks among supply-chain stakeholders. Chinese companies are key partners because they are the world's largest importers of tropical wood, and the initiative therefore has considerable potential to bring about major improvement.
Dr Rosibel Martinez Arriaga, Director of International Cooperation, Secretary of Natural Resources and Environment, Honduras, spoke about the experience of local Honduran communities in developing a biological corridor, with assistance from the Japan International Cooperation Agency (JICA). She said that biological corridors are tools for linking not only two or more protected areas but also upper and lower watersheds, conservation and sustainable forest use, people and forests, and climate-change mitigation and adaptation. Involving communities in local initiatives is essential, she said.
Ms Tiina Vahanen, Chief of the Forestry Policy and Resources Division in the FAO Forestry Department, said that an estimated 900 million hectares of degraded land worldwide potentially could be restored with trees, with the capacity to sequester 205 gigatonnes of carbon. FAO, together with partner organizations, is supporting Africa's Great Green Wall initiative, which has 166 million hectares of restoration opportunities. Nature-based solutions are means to mitigate and adapt to climate-change mitigation, conserve and restore ecosystems and ensure nature's contributions to resilient livelihoods, green job generation and rural poverty reduction. The UN Decade of Ecosystem Restoration 2021–2030 is a timely vehicle, said Ms Vahanen.
Ms Marioldy Sanchez Santivañez, Project Manager at AIDER-Peru, said local communities are responsible for the management of more than 30% of Peru's forests. It is imperative, she said, that community forest management models incorporate a value-chain approach to promote socially inclusive and sustainable businesses on community lands. REDD+ is a complementary financial strategy in such models, said Ms Sanchez, but it requires equitable, fair and harmonious partnerships along the value chains of products produced by communities, and trust among stakeholders is essential.
Mr Joaquim A. Macuacua, Head of Mapping and Data Management in Mozambique's National Directorate of Forests, said sustainable forest management requires an integrated approach to implementation as well as effective forest monitoring. He reported that, in Mozambique, about 82% of the population lives in and depends on forests, and shifting cultivation accounts for 65% of deforestation and forest degradation. Reducing the wood harvest for fuelwood and charcoal is the biggest challenge in forest management, said Mr Macuacua. He introduced the Sustainable Forest Resource Information Platform for REDD+, which has been established in cooperation with JICA.
Dr Sato Tamotsu from FFPRI argued that mitigation and adaptation measures in the forest sector interact. Forest-based climate-change mitigation projects can have positive impacts on local livelihoods and their adaptive capacity, and adaptation projects can directly improve ecosystems and carbon stocks, thus increasing mitigation. Dr Sato explained that ecosystem-based adaptation is the use of biodiversity and ecosystem services as part of overall adaptation strategies to help people manage the adverse effects of climate change. Biodiversity–productivity relationships indicate that biodiversity conservation is important for maintaining forest carbon sinks.
Responding to a question from the audience on how trade in sustainably produced timber can influence climate-change mitigation, Dr Dieterle reiterated the vital role of wood as a carbon store and the importance of linking sustainable wood use with climate-change policies.