Productive forests, sustainable supply chains key to achieving sustainable development targets, says Dieterle
30 January 2018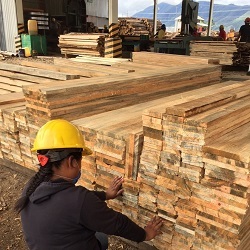 Productive forests and their associated supply chains are crucial for achieving the Sustainable Development Goals (SDGs) and the Aichi Biodiversity Targets, according to ITTO's Executive Director, Dr Gerhard Dieterle.
Speaking at the International Symposium on the Promotion of Deforestation-Free Global Supply Chains to Contribute to Halting Deforestation, held on 23–24 January 2018 in Tokyo, Japan, Dr Dieterle said that while deforestation had been the subject of considerable global deliberation, forest degradation had been underestimated.
"In our view, forest degradation is a significant omission from the international forest regime and needs urgent attention," he said.
Forest degradation makes a major contribution to greenhouse gas emissions and reduces the capacity of forests to supply local, national and global markets with essential forest products, said Dr Dieterle. On the other hand, sustainably managed forests can provide the world's growing population with a stable supply of essential commodities such as timber, fibre, woodfuel and many non-wood products while alleviating poverty, fighting climate change and protecting biodiversity.
Many commodities produced in tropical countries, such as palm oil, soy, beef and timber, have been associated with deforestation, forest degradation, illegality, corruption and the violation of the rights of indigenous peoples and local communities, said Dr Dieterle.
"The reality is, however, that the rapidly growing global population depends on such commodities, which today move across countries and borders at an industrial scale. The ever-increasing demand must be met," he said.
This demand will lead to one of two scenarios: further deforestation and forest degradation, or, more positively, an increase in productive forests that would help drive the green economy and mitigate climate change.
"We need to look at forest products the same way we look at food: there is no alternative other than producing and using them," said Dr Dieterle.
He said that forest degradation is more challenging to address than deforestation because it occurs in dispersed patterns across large areas of land and is more difficult to assess reliably. The way to address both deforestation and forest degradation is from the demand side, he said, where value supply chains have a role to play in incentivizing good practices for the sustainable production, marketing and use of timber. Countries and businesses should step up their procurement and consumption of verified legal and sustainable commodities.
Dr Dieterle said that capacity building and innovative incentive mechanisms were needed urgently to scale up deforestation-free supply initiatives. He pointed out that ITTO is well placed to promote these because it brings together producer and consumer countries within a unified vision of promoting sustainable forest management.
The International Symposium on the Promotion of Deforestation-Free Global Supply Chains to Contribute to Halting Deforestation was co-organized by Japan's Forestry Agency, the Food and Agriculture Organization of the United Nations (FAO) and ITTO. It explored ways of slowing, halting and reversing global forest loss, taking into account commitments made in the Aichi Biodiversity Targets, the SDGs and the New York Declaration on Forests, by scaling up deforestation-free supply initiatives and good practices. The symposium's outcomes will be reported at the
International Conference Working across Sectors to Halt Deforestation and Increase Forest Area – from Aspiration to Action
in Rome, Italy, on 20–22 February 2018; the
13th Session of the United Nations Forum on Forests
in New York, USA, on 7–11 May 2018; and the
United Nations High-level Political Forum
in New York, USA, on 9–28 July 2018.
Visit the Symposium site for more information
Follow social media posts on the symposium:
Facebook
,
Instagram
and
Twitter
Download Dr Dieterle's speech here: