Diverse approaches to forest management needed in Africa
11 September 2019, Yokohama, Japan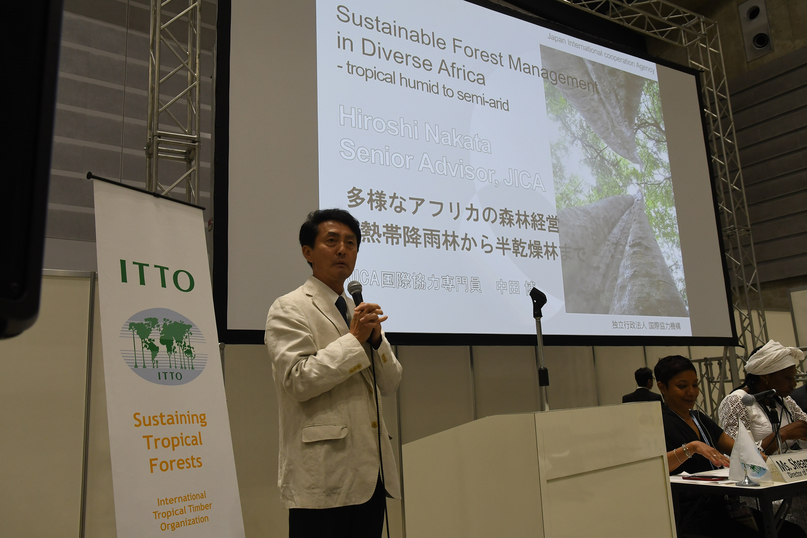 Sustainable forest management (SFM) must be tailored to suit Africa's extraordinary diversity of landscapes, people and market demands, and landscape restoration and sustainable and legal supply chains will be crucial in efforts to bring about SFM, according to Hiroshi Nakata, Senior Advisor at the Japan International Cooperation Agency (JICA).
Dr Nakata was speaking at an ITTO side-event at TICAD 7 in Yokohama, Japan, last month. The side-event, which was held on 28 August 2019, was co-organized by ITTO, Japan's Forestry Agency and JICA, with the support of Japan's Ministry of Foreign Affairs, the City of Yokohama and Kanagawa Prefecture.
Dr Nakata described several SFM approaches in Africa facilitated by JICA, which vary depending on forest type. They include forest conservation in the transitional zones between tropical humid and semi-arid ecosystems in coastal Guinea; the management of trees outside forests in semi-arid areas, including for their benefits for climate-change mitigation and adaptation, biodiversity conservation, poverty reduction and freshwater supply; in the Sahel, where the goal is to deploy SFM against desertification; and in southern Africa through multiple-use forest management.
In his presentation, Dr Nakata highlighted the role that ITTO and JICA are playing in promoting SFM in Africa, which contributes to the achievement of several SDGs, including 1 ("no poverty"), 7 ("affordable and clean energy"), 13 ("climate action") and 15 ("life on land").
Dr Nakata said that a key approach to encouraging SFM is the development of transparent markets for legal and sustainable wood products. Landscape restoration also constitutes an opportunity in Africa, as long as it is participatory and supported by adequate land-use policies.
The Tokyo International Conference on African Development (TICAD) is an international conference led by the Japanese government and co-sponsored by the United Nations, the United Nations Development Programme, the African Union Commission and the World Bank. An estimated 4500 people attended TICAD 7 on 28–30 August 2019.
Watch an interview with Mr Nakata