ITTO and AFoCO strengthen cooperation to address global challenges
5 May 2022, Seoul, Republic of Korea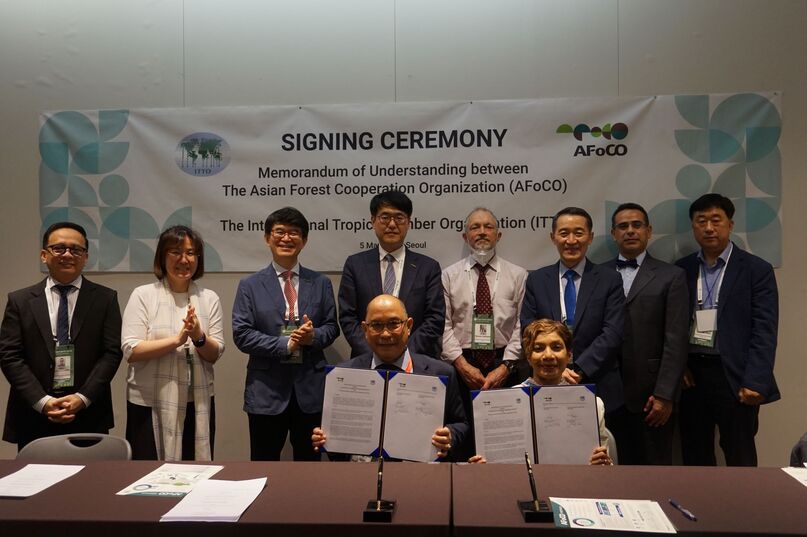 Seoul, Republic of Korea, 5 May 2022: ITTO and the Asian Forest Cooperation Organization (AFoCO) will intensify their joint work on forest conservation, forest restoration, sustainable forest management, and the sustainable production and consumption of forest products and ecosystem services under a new memorandum of understanding (MOU) signed today.
ITTO Executive Director Sheam Satkuru and AFoCO Executive Director Ricardo L. Calderon endorsed the MOU at the XV World Forestry Congress, which is being held in Seoul this week.
Both leaders welcomed the signing as recognition of the two organizations' common interest in achieving multiple Sustainable Development Goals through forest conservation, restoration and sustainable use. The new MOU follows an earlier agreement between ITTO and the ASEAN-Korea Forest Cooperation, signed in 2013.
"The world urgently needs solutions to climate change, biodiversity loss, forest wildfire and many other challenges," said Ms Satkuru. "Stronger cooperation among international organizations is essential for increasing the impact of our work on the ground."
"ITTO and AFoCO shared common interest and concerns," said Mr Calderon. "We are both champions of forests and their role in sustainable development and addressing global problems. We both recognize the importance of sustainable forest management, responsible consumption of forest products, and ecosystem services."
"The partnership between AFoCO and ITTO has already provided many benefits for our members," said Ms Satkuru. "The new MOU will strengthen our mutual work and help both organizations achieve their mandates."
For more information on ITTO go to www.itto.int
For more information on AFoCO go to
www.afocosec.org