ITTO launches project to improve fire management in Peru
28 July 2021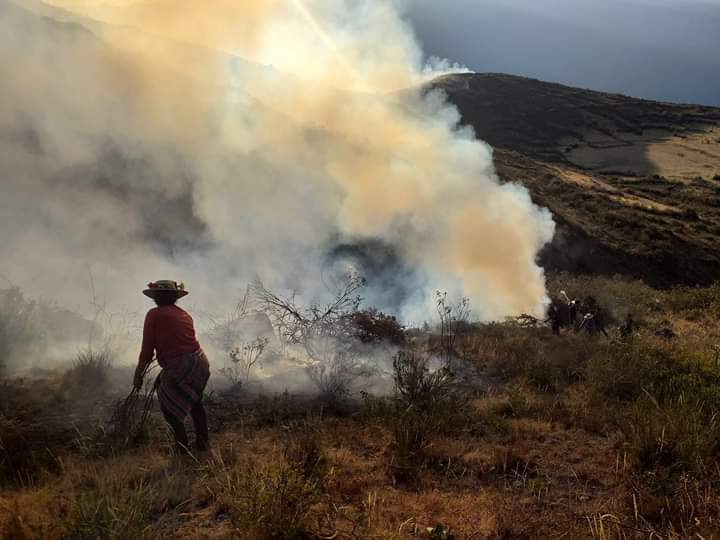 Yokohama, 28 July 2021: An ITTO project was officially launched recently with the aim of tackling the threat of wildfire in Peru through integrated fire management.
The project, which was initiated at a virtual event hosted by Peru's National Forest and Wildlife Service (Servicio Nacional Forestal y de Fauna Silvestre—SERFOR) on 9 July, will be implemented in the departments of Cajamarca, Huanuco, Junin, Pasco and Ucayali, which are all vulnerable to wildfire. Peru incurs as many as 800 wildfires annually, caused mainly by uncontrolled burning for agriculture, with highly negative impacts on the environment, biodiversity and human health.
Speaking at the project launch, ITTO Director of Operations, Ms Sheam Satkuru, praised SERFOR for its work to improve fire management in the country's forests.
"Climate change looms as a major challenge in the tropics, and the increasing incidence of forest fire is a sure sign of this," she said. "It's crucial that the international community supports the efforts of tropical countries to address fire management challenges."
Expected outcomes of the project include a reduction in the incidence of forest fire and associated forest loss; improved agricultural and silvicultural practices; improved fire prevention, management and early-response protocols; improved firefighting capacity; the installation of efficient early-warning and monitoring systems; effective coordination and synergies among stakeholders in combating and preventing forest fires; increased public awareness of fire management; and reduced greenhouse-gas emissions.
Local communities, indigenous groups, farmers, fire brigades, non-governmental organizations and local and national agencies are all expected to participate in and benefit from the project.
During the launch event, SERFOR officials thanked the Government of Japan for making funding available for the activity as part of its emergency assistance for forest fire management in the tropics, and ITTO for its ongoing support.
Ms Satkuru said that this collaboration between ITTO and SERFOR on fire management and the prevention of wildfires was a further milestone in a long-running partnership between the two organizations.
"We can expect the project to help reduce forest fires in Peru by strengthening both national and local capacity in fire prevention and early response," she said.
Ms Satkuru also recognized the expected contributions of the project to the Sendai Framework for Disaster Risk Reduction 2015–2030, the Paris Agreement on climate change, and several of the Sustainable Development Goals. She highlighted the importance of monitoring and evaluation systems as part of successful fire-prevention programmes, as noted by the 7th International Wildland Fire Conference held in Brazil in 2019 and in the ITTO Guidelines on Fire Management in Tropical Forests.
The project is part of ITTO's current Biennial Work Programme on capacity building in forest and land fire management. A similar initiative is underway in Indonesia at a combined value of USD 2.2 million, funded by the Government of Japan.
Read SERFOR news on the event (in Spanish).
Download the activity document.