Productive forests, sustainable supply chains key to achieving sustainable development targets, says Dieterle
2018-01-30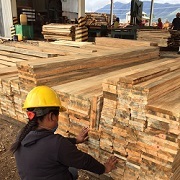 Productive forests and their associated supply chains are crucial for achieving the Sustainable Development Goals (SDGs) and the Aichi Biodiversity Targets, according to ITTO's Executive Director, Dr Gerhard Dieterle.
Speaking at the International Symposium on the Promotion of Deforestation-Free Global Supply Chains to Contribute to Halting Deforestation, held on 23–24 January 2018 in Tokyo, Japan, Dr Dieterle said that while deforestation had been the subject of considerable global deliberation, forest degradation had been underestimated.
"In our view, forest degradation is a significant omission from the international forest regime and needs urgent attention," he said.
Forest degradation makes a major contribution to greenhouse gas emissions and reduces the capacity of forests to supply local, national and global markets with essential forest products, said Dr Dieterle. On the other hand, sustainably managed forests can provide the world's growing population with a stable supply of essential commodities such as timber, fibre, woodfuel and many non-wood products while alleviating poverty, fighting climate change and protecting biodiversity.