Status of Tropical Forest Management 2005
Latin America & the Caribbean
Venezuela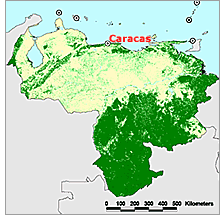 Venezuela still possesses vast unexploited forest resources in its two largest states of Bolivar and Amazonas. Relatively modest logging concessions and cutting permits have been granted over the past 35 years. Instead of increasing the harvesting of natural forests, plantation forestry has been developed for many years. Today, much of the domestic need for industrial wood is met by planted forest. The country's forest-related laws contain strong environmental provisions, and a large proportion of its territory is in designated protected areas (although in some places under tenurial dispute by indigenous communities). However, there is a gap between the legal provisions and their implementation in the field. SFM for production and conservation has not yet been fully achieved; the enforcement of forestry regulations is considered to be far from optimal, and illegal logging, hunting and encroachment are reportedly widespread. Nevertheless, a basis has been laid for the development of SFM and effective forest conservation.
Key points
The PFE comprises an estimated 13 million hectares of natural production forest and 20.6 million hectares of protection forest. There is also a substantial plantation estate (about 863,000 hectares).
It is estimated that at least 480,000 hectares of the natural-forest production PFE is managed sustainably; insufficient information was available to estimate the extent of the protection PFE so managed.
The forests north of the Orinoco River are heavily degraded and encroached. South of the Orinoco River, Venezuela still has extensive and timber-rich forest resources with good potential for SFM.
The monitoring of forest resources and implementation of forest management are both deficient, particularly in more remote areas.
There is a lack of clarity in administrative roles and responsibilities for forests, in particular between MARN, the Ministry of Agriculture and the Ministry for Energy and Mining.
The new national forest policy is not yet finalized or backed up with effective legislation, and the forest concession policy lacks clarity.
Wood production is shifting from natural forest to plantations and to regulated forest concessions with management plans.
Despite regulations to the contrary, logging in natural forests concentrates on the most valuable timber species.
The long-term viability of the protection PFE depends on the continuous provision of financial resources and acceptance by local stakeholders.