Status of Tropical Forest Management 2005
Latin America & the Caribbean
Mexico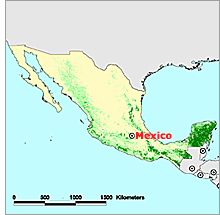 The management of Mexico's forests differs greatly between the pine and oak forests in the temperate zone, the forests in subtropical regions and the moist tropical forests in the south. The rate of deforestation has apparently slowed but is still high. Over-harvesting and illegal harvesting of forest resources is widespread (although less so in the tropics than in the temperate zone); they exceed sustainable levels in many areas. Community management is the major form of forest management but, in many cases, communities are not equipped to manage their forests sustainably. Some of the problems that obstruct progress towards the sustainable management of the closed forest areas in communes (ejidos) include a lack of resources and know-how for the economic use of forest resources and discrepancies in the objectives between communities, the private sector and forest authorities. On the other hand, good progress has been achieved in forest certification, although much of this to date has been outside the tropics. Moreover, the government has taken steps to address shortcomings in the sector and is attempting to combat illegal logging and fire.
Key points
The rate of deforestation has apparently slowed but is still high.
Mexico has not formally designated a PFE. ITTO estimates that about 13.6 million hectares can be considered to constitute a tropical PFE, comprising 7.88 million hectares of natural-forest production PFE, 5.60 million hectares of protection PFE and 100,000 hectares of industrial timber plantations.
The area of natural tropical production PFE under SFM is estimated to be at least 111,000 hectares, corresponding to the total area of certified natural tropical forest; insufficient information was available on the forest management outside these areas for an estimate to be made for the wider tropical production PFE.
No data were made available on the status of management of Mexico's tropical protection PFE.
About 8,500 ejidos and local communities own an estimated 80% of Mexico's forests. About 15% is owned privately and 5% is national land.
A forest law enacted in 2003 governs the management of production forests, including in ejidos. Some states have also enacted their own forestry/environmental laws.
The low financial viability of natural forest management appears to be inhibiting the uptake of SFM in some ejidos.
The national government has taken steps to combat illegal logging and forest fire, but both these problems are still prevalent.
The production potential of the natural forests in the tropics is an estimated 1.4 million m3, much more than current (official) production.
Continuing conflicts over land-use are apparently inhibiting SFM in some areas.
Some forests are classified as protected areas but are privately or communally owned, and their protection status is unclear.