Status of Tropical Forest Management 2005
Latin America & the Caribbean
Honduras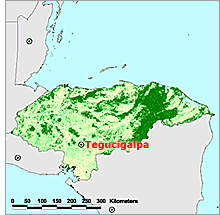 Present management of the broadleaved natural forests in Honduras is sometimes more a matter of extracting only the most valuable species than of silvicultural management. Silvicultural and conservation measures described in forest management plans are often not respected and there is a risk that logged-over areas will become degraded. Illegal logging is widespread and nourishes an informal wood sector that competes with legally produced timber and timber products. Protected forest areas are not clearly delimited and there are difficulties in protecting remote forest areas from forest degradation and deforestation. On the other hand, recent efforts have been made to overcome illegal activities and corruption and to strengthen institutions in order to integrate forests into sustainable development; the wider importance of forests for goods and environmental services has been recognized and the forest law is being revised. The challenge will be to translate a good theoretical framework of law and policy into effective implementation in the field.
Key points
The PFE comprises an estimated 1.59 million hectares of production forest and 1.60 million hectares of protection forest.
At least 187,000 hectares of production PFE are being managed sustainably. Insufficient information was available to estimate the area of protection PFE so managed.
The broadleaved moist forest could make a larger contribution to sustainable development in Honduras, although the potential for timber production is not known.
Management norms for the pine forests have been formulated and are being implemented in some forests; prescriptions for the sustainable management of the moist forests also exist but are less clear.
Illegal logging is thought to be prevalent.
The extent and status of protected forest areas are not clear. Few data are available on the level of protection afforded by forested protected areas.
Many protected areas are threatened by land conversion.
A revision and modernization of forest legislation was started in 2002 as part of the Honduras Forestry Agenda, but the new law is yet to be enacted.
Forest tenure, particularly on public land, is subject to dispute; large tracts of moist forest have no clear ownership status.
Generally, the forest administration lacks the finance and staff necessary to adequately enforce the law and manage the forests.