Status of Tropical Forest Management 2005
Latin America & the Caribbean
Brazil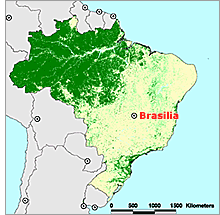 Brazil is endowed with an incredible abundance and variety of flora and fauna; it has more known species of plant than any other country. The Amazon represents the single largest tract of tropical rainforest and is still 86% intact; in contrast, the Atlantic forest covers less than 7% of its original area (although it still harbours a wide variety of biodiversity). Some of the most significant problems facing forestry in Brazil are: poor infrastructure; the remoteness of many forests from centres of commerce and control; the weak competitiveness of SFM as a land-use; the lack of competitiveness of the tropical timber industry; lack of full-cost pricing and the abundant availability of low-cost timber; a serious shortage of management skills; and a lack of enforcement of laws and regulations. To date, the high level of biodiversity in the Amazon has not been a development asset. Given that development will continue in the region, probably at an accelerated rate, there is an urgent need to find ways of using the biodiversity resource in financially remunerative and sustainable ways. Government has been working to address institutional barriers to SFM and a number of recent initiatives offer hope that the area of production PFE in the Amazon under SFM will expand significantly in the future.
Key points
Brazil is a forest-rich country with a tropical-forest PFE of 370 million hectares. Despite deforestation in certain parts, there are still huge forest resources in the Amazon region.
An estimated 1.36 million hectares of natural tropical forest production PFE are being sustainably managed; insufficient information was available to estimate the area of protection PFE so managed.
Vast areas of the Amazon are currently under no threat from deforestation or other significant human-induced disturbance due to their remoteness.
Brazil has successfully raised large-scale industrial forest plantations through private investment to ensure a sustainable supply of raw material.
The majority of the production forest is under private ownership, although ownership and tenure disputes are a major problem.
A wide range of policies, strategies, laws and regulations have been developed to facilitate forest administration and to achieve SFM.
Institutional weaknesses and an inadequate capacity for enforcing policy and policy instruments have been a significant constraint.
Only a small portion of the forest is under management plans; the bulk of wood production, though derived from private sources, is reported to be unauthorized because it is not based on official approvals. Harvests are often not based on any SFM criteria.
A number of companies have come forward for the voluntary certification of their forest management operations. However, the financial competitiveness of SFM in natural forests with alternative land-uses is often low, leading to significant deforestation and threatening the long-term viability of sustainably managed natural forests.