Status of Tropical Forest Management 2005
Asia & the Pacific
Vanuatu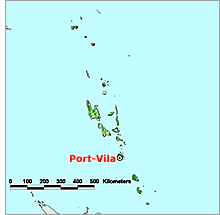 No formal PFE has been created in Vanuatu because all forests are under customary ownership. The role of the national government in forest management is in policy development, planning, protection, silvicultural principles and guidelines, and the supervision of logging companies. However, to date it has not been possible to implement a forestry regime that operates on the basis of long-term forest management plans.
Key points
All lands, including forests, are customarily owned.
There is, therefore, no formal PFE. Theoretically, a future PFE could amount to 127,000 hectares, of which 117,000 would be natural-forest production PFE and 8,340 protection PFE; there are about 2,100 hectares of plantations.
Production forests are not covered by long-term management plans and therefore cannot be considered sustainably managed. No estimate could be made of the area of protection PFE under SFM.
The current annual harvest of about 30,000 m3 is well below the estimated sustainable yield (68,000 m3) from the 117,000 hectares of natural forest deemed suitable for production forestry.
The national forest policy contains an indicative program of action in all aspects of the management of Vanuatu's forests which, if fully implemented, would lead to a significant improvement in forest management.
The Department of Forestry under the Ministry of Agriculture, Forestry and Fisheries has responsibility for administering and managing the forest. The personnel, funds and facilities available to it are inadequate to carry out these functions.
The four FMUs (corresponding to the four main islands) are not covered by long-term management plans, although coupes are usually covered by harvesting plans based on the Code of Logging Practice.
The protected-area system of Vanuatu is very small; about 3% of the mid-to-high forest and 0.7% of the low forest are represented in protected areas.