Status of Tropical Forest Management 2005
Africa
Republic of Congo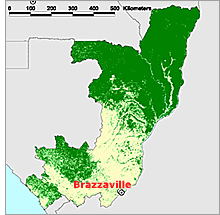 The Republic of Congo has a large forest resource, supportive government policies, little population pressure, and at least one large concessionaire well advanced along the path to SFM. The stage therefore seems set for the forestry sector – particularly in northern Congo – to expand the area of forest under SFM, provided that issues related to local communities and the over-hunting of certain mammal species can be addressed.
Key points
The Republic of Congo has a large resource of closed tropical forests, particularly in the north, and a relatively low level of conversion to other uses, although there is significant encroachment in the southern forests.
The PFE is an estimated 21.3 million hectares, comprising 18.4 million hectares of production forest, 2.86 million hectares of protection forest and 72,000 hectares of industrial timber plantations.
At least 1.30 million hectares of the natural-forest production PFE, comprising the concession areas of CIB in northern Congo, are thought to be under SFM. Some 380,000 hectares of protection PFE are deemed to be so managed.
The over-hunting of wild meat within concessions, and social relations between indigenous forest dwellers and migrants, are possibly the biggest constraints to SFM in northern Congo.
Forestry administration is the responsibility of the Ministry of Forest Economy and the Environment (MEFE). Institutional capacity remains relatively weak.
In the south, more than 1 million hectares of forest have been allocated for harvesting in lots of about 50,000 hectares to operators largely unskilled in forest management.
In the north, concession-holders are expected to collaborate with MEFE in the development of forest management plans; inventories have been carried out on at least 6.4 million hectares.