Promoting legal and sustainable supply chains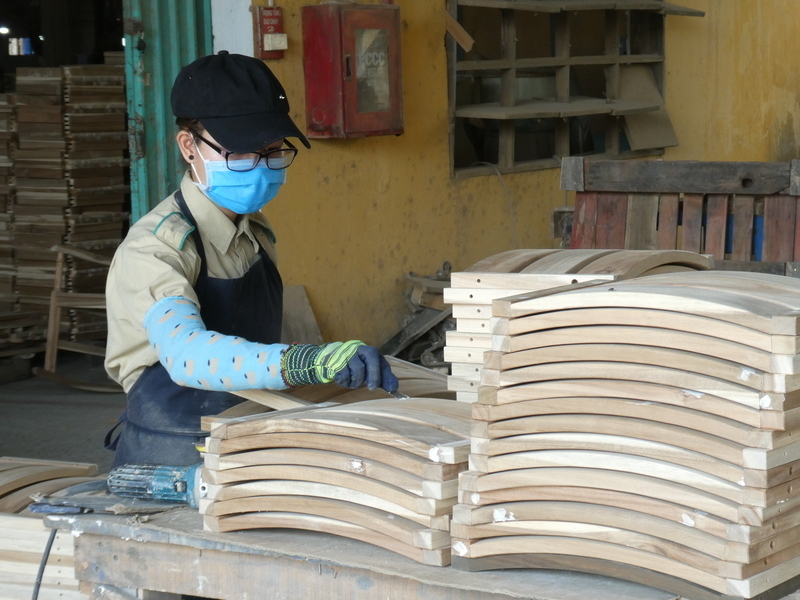 A worker puts the finishing touches on wooden chair parts in a factory in Da Nang, Viet Nam. Photo: J.C. Claudon/ITTO
A supply chain comprises the organizations, activities and methods associated with all stages of the business processes involved in planning, sourcing, processing, manufacturing and delivering goods and services. A legal and sustainable supply chain is one that minimizes negative environmental and social impacts, addressing issues such as water and energy use, pollution, the treatment of workers, biosecurity, marginalized people, biodiversity and land use. ITTO believes that nature-based solutions to climate change involving trees and forests can only be fully achieved by adding to the monetary value of sustainably managed forests through legal and sustainable supply chains, which are also essential for maintaining a long-term resource base and providing "wood security", livelihoods and income, especially in rural areas.

The shift towards sustainable tropical timber supply chains needs facilitators. International organizations, including ITTO, have an important role to play in building capacity among small-scale operators and other stakeholders across supply chains, investigating and demonstrating the elements of sustainable supply chains, and sharing knowledge and technologies.

The overall aim of ITTO's programme in this area is to strengthen best practices and governance in the ongoing development of legal and sustainable supply chains in the tropical timber sector. The Organization is working with tropical producers and traders, including small-scale operators and their associations, to increase capacity to deal with the often complex requirements of legal and sustainable supply chains. It is also working with major timber-purchasing companies in China and elsewhere to develop global legal and sustainable supply chains. ITTO and a range of public- and private-sector partners convened an international forum in Shanghai, China, in October 2019, at which more than 30 large timber-purchasing companies agreed to create a voluntary network to promote recognition of the economic, social and environmental values of forests and the incorporation of legality and sustainability in all forestry operations.