ITTO assists Madagascar with plan for precious wood stockpiles
29 June 2018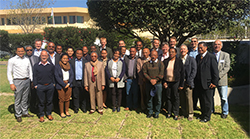 An ITTO co-hosted workshop held recently in Madagascar has started a process for dealing with Madagascar's stockpiles of precious woods listed in Appendix II of the Convention on International Trade in Endangered Species of Wild Fauna and Flora.
The Workshop to Discuss Implementation of Madagascar's Use Plan ("Business Plan") for Securing and Disposing of Stockpiles of Rosewood and other Precious Woods" was convened in the country's capital, Antananarivo, on 19–21 June 2018. Co-hosted by the Government of Madagascar (Ministry of Environment, Ecology and Forests) and ITTO, it assembled over 30 stakeholders from the Government of Madagascar, donor/importer country governments, civil society, the private sector, academia and international organizations to provide inputs to a business plan for managing the stockpiles. The Government of Madagascar will submit the business plan to the 70th meeting of the CITES Standing Committee in October.
Madagascar's populations of rosewood and ebony were listed in CITES Appendix II in 2013. An export ban is in place for these species due to the country's difficulties in implementing the provisions of the CITES listing, including dealing with significant stockpiles of the species, which have accumulated mostly outside government control.
The workshop's agenda and presentations are available
here
. The report of the workshop will be posted as soon as it becomes available.
The revised business plan will be available in due course on www.cites.org.