Capacity building crucial for success of transboundary conservation areas—report  
31 May 2018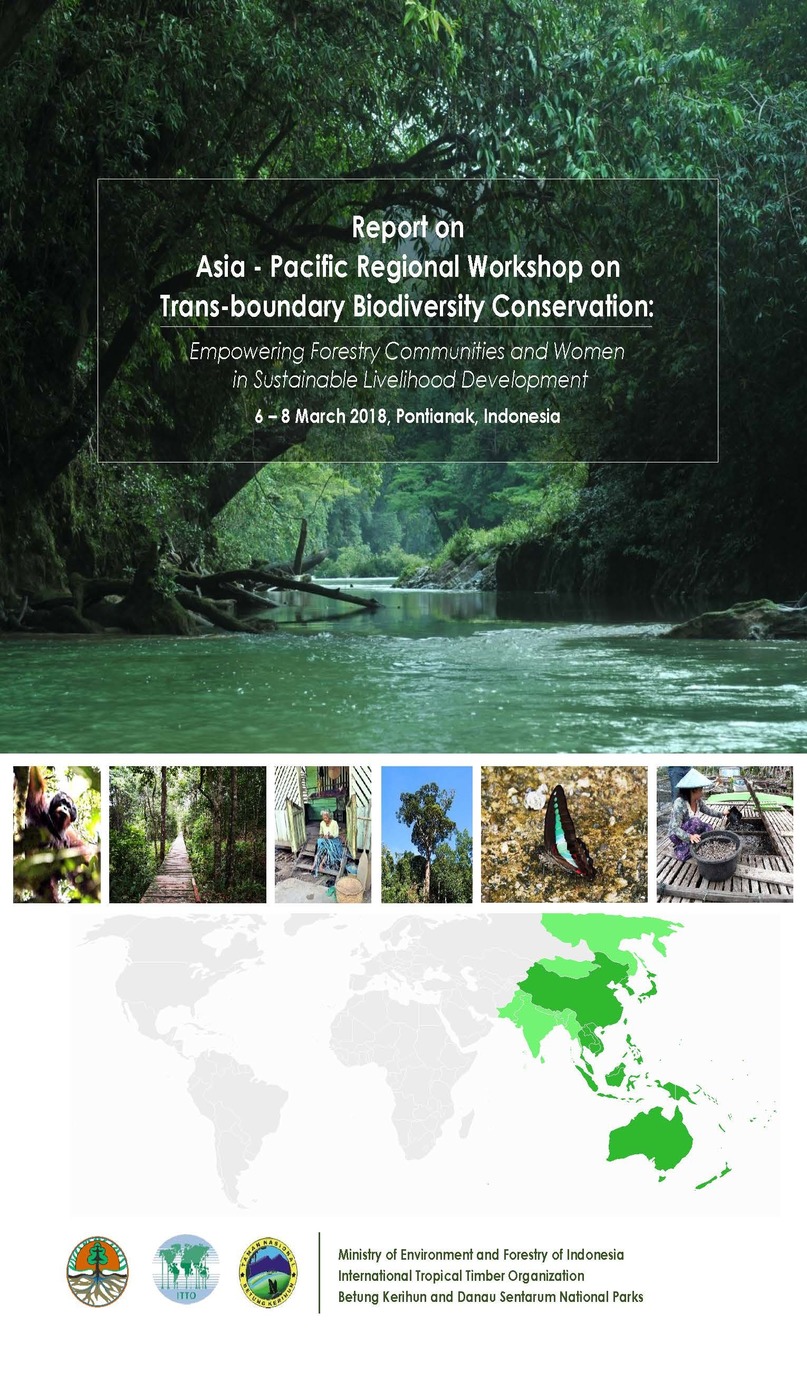 Massive efforts are needed to build the capacity of stakeholders involved in transboundary conservation areas (TBCAs), according to a report of a regional workshop on TBCAs in Asia and the Pacific held in March this year.
The workshop, "Asia Pacific Regional Workshop on Trans-Boundary Biodiversity Conservation: Empowering Forestry Communities and Women in Sustainable Livelihood Development", took place in Pontianak, West Kalimantan, Indonesia, on 6–8 March 2018. It was attended by about 65 stakeholders and organized by Indonesia's Ministry of Environment and Forestry in cooperation with ITTO. ITTO has been a leading sponsor of TBCAs since 1994, supporting the establishment of more than 10 million hectares of TBCAs across the tropics, around one-third of which are in Asia.
The workshop was held as part of ITTO project
PD 617/11 Rev.4 (F)
: "Promoting biodiversity conservation in Betung Kerihun National Park (BKNP) as the transboundary ecosystem between Indonesia and Sarawak state of Malaysia".
Workshop participants shared the lessons learned in the implementation of ITTO TBCA projects, and the following key points (among others) emerged:
Ecosystems do not recognize political boundaries and, therefore, TBCAs should be an integral part of global efforts to conserve large, contiguous areas of tropical forest ecosystems and biodiversity.
The presence of permanent political boundaries within TBCAs means that strong commitment and political support from national and provincial governments is crucial for the success of TBCA initiatives.
Building communication with local communities, and appreciation of traditional methods of cooperative action practised among the communities, is key to building trust between TBCA officials and local people.
The involvement and cooperation of forest-dependent communities can be ensured in the long term only if biodiversity conservation serves their economic and livelihood interests. Although headway has been made in this direction, much more needs to be done. Prolonged and organized efforts to build capacities are needed.
Within local communities, the participation of women is crucial for biodiversity conservation in remote areas. This is most likely when the process of biodiversity conservation provides women with opportunities to not only increase their incomes but also enhance their education and health.
Download the publication
Download other technical reports from the project:
http://www.itto.int/project_search/detail/?proid=PD617%2F11+Rev.4+%28F%29
Download photos and presentations from the Workshop
Presentations from Day 1
Presentations from Day 2
Photos-Day_1
Photos-Day_2
Photos-Day_3