Video raises awareness of threat to afrormosia in Ghana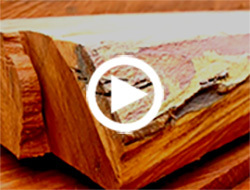 A video documentary on the decline of the valuable timber species
Pericopsis elata
—best known by its trade name afrormosia—in Ghana is raising awareness of the plight of the species and prompting conservation action. According to the video, which was produced as part of an ITTO project,
P. elata
is moving towards local extinction in the country.
The aim of ITTO project
TMT-SPD 017/15 Rev.2 (M)
was to establish the conservation and trade status of
P. elata
in Ghana by making available up-to-date data on its distribution, conservation, markets and trade. The project found that, despite a harvesting embargo, the resource life—that is, the number of years that a species can continue to be used commercially at the current rate of extraction—of
P. elata
was effectively zero. Inspections of sawmills and timber markets in Accra and Dormaa Ahenkro showed the ongoing sale of afrormosia without licences.
The documentary, which is now available on the ITTO YouTube channel, has increased concern about the sustainable management of the species, and the government is now pursuing a policy to improve the status of the species through plantations and enrichment planting.
P. elata
is listed in Appendix II of the Convention on International Trade in Endangered Species of Wild Fauna and Flora (CITES), which means that its international trade is not permitted without authorization by the relevant authorities in exporting countries.
watch the documentary