Coastal forest services more valuable than cattle, concludes ITTO study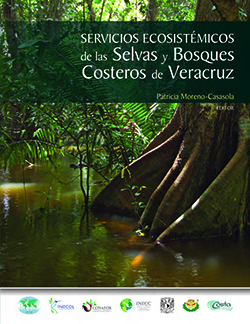 A report published recently by ITTO project
RED-PD 045/11 Rev.2 (M)
concludes that, if all the ecosystem services provided by flooded forests and wetlands in Veracruz, Mexico, are taken into account, these ecosystems are vastly more valuable than the grazing land that often replaces them.
The publication, "
Servicios Ecosistémicos de las Selvas y Bosques Costeros de Veracruz
" ("Ecosystem services of tropical and coastal forests of Veracruz"), presents the results of an economic valuation of flooded forests and wetlands (mangroves, swamps and marshes) conducted by the project in the state of Veracruz on the Gulf of Mexico. Among other things, these forests provide crucial protection against storms and floods, help regulate the water supply, underpin a lucrative fishing industry, host important biodiversity, provide a food supply, and store large quantities of carbon. The valuation concluded that the economic value of these services is much greater than the value generated by cattle-raising. The challenge is to ensure that landowners can capture more of that value as an incentive to conserve the few remaining forests in the region.
The aim of the publication, which is edited by Patricia Moreno-Casasola, is to provide scientific evidence of the value of ecosystem services and to raise awareness among farmers and policymakers of the importance of balancing development with the essential benefits provided by nature. The report summarizes the results of the project in 16 chapters containing photographs, maps, charts, figures and graphics to illustrate the ecosystem services and their value.
This is the sixth book produced by ITTO project
RED-PD 045/11 Rev.2 (M)
. Other relevant works, including papers in scientific journals, theses for advanced university degrees, posters, leaflets and calendars, are available via
ITTO's project search function
, and several videos are available on ITTO's
YouTube channel
.