ITTO releases video on C&I for SFM as Paris Agreement enters into force
4 November 2016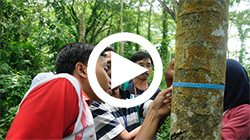 ITTO's criteria and indicators (C&I) for the sustainable management of tropical forests, which were revised recently and now feature in a new short video, will help tropical countries monitor forest-related carbon as part of commitments made in the Paris Agreement, which came into force on 4 November 2016. The new video,
Criteria and indicators for SFM of tropical forests
, summarizes the latest version of the C&I, which was published in September 2016 as
Criteria and indicators for the sustainable management of tropical forests
.
The C&I were revised to take into account global developments, such as those related to climate change and the Sustainable Development Goals (SDGs). The release of the C&I video coincides with the entry into force of the historic Paris Agreement on Climate Change, which was adopted in 2015 and is an integral part of the SDGs. The speed with which the agreement has entered into force underlines the high level of support for climate action worldwide. Under the Paris Agreement, all nations have agreed to combat climate change and to unleash actions and investments towards a low-carbon, resilient and sustainable future. Among other things, it formally recognizes the important role of forests in addressing climate change.
The C&I video is available on
ITTO's YouTube channel
, which hosts a collection of more than 30 videos on ITTO projects and activities, many of which relate to how C&I are used in practice.