New timber trade portal launched
14 January 2016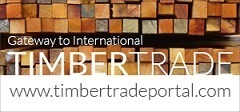 With support from ITTO as part of its Biennial Work Programme, the
European Timber Trade Federation (ETTF)
has launched a one-stop, online information platform designed to enhance and facilitate legal trade in (mainly tropical) timber.
The Timber Trade Portal
provides international timber traders and other users with information on the forest industry and legality requirements in timber-producing countries. This is the first time that information on the tropical timber trade has been organized and centralized at such a large scale, and the expectation is that it will result in more transparency in the timber supply chain.
Tropical timber importers have had to adjust to new and challenging terms of trade in recent years, in particular due to requirements to verify the legality and origin of wood products. To satisfy the due-diligence requirements of various regulations, importers increasingly must obtain documentary evidence to show that suppliers are operating in accordance with national laws and regulations. With the launch of the
Timber Trade Portal
, importers around the world now have ready access to the laws and regulations applying in supplier countries.
Project partners
The project received financial contributions from ITTO and the
European Sustainable Tropical Timber Coalition
.
Form international
, a Dutch consultancy firm, developed the website and compiled the country profiles (see below), while information on the industry and timber legality was gathered from sources such as FAO, ITTO, the International Trade Centre and the European Union Forest Law Enforcement, Governance and Trade Facility. An extensive network of experts, sources and traders provided inputs and reviews and will help ensure that the website remains up to date.
Country profiles
The first countries profiled on the website are all significant tropical timber exporters—Côte d'Ivoire, Ghana, Guyana and Indonesia. The next profiles to be added will be for Brazil, Cameroon, the Central African Republic, the Republic of the Congo, Suriname, and Viet Nam. The following countries will be profiled by mid-2016: China, the Democratic Republic of the Congo, Ecuador, Honduras, Gabon, India, Liberia, Malaysia, Myanmar, Papua New Guinea, Peru, the Russian Federation and Ukraine.
Visitors to the website are invited to add information and share their experiences, using the review button on the country profiles.
For more information please contact: Andries Polinder (a.polinder@forminternational.nl) or Christine Naaijen (c.naaijen@forminternational.nl) at Form international (www.forminternational.nl), or André de Boer (a.deboer@ettf.info) at ETTF (www.ettf.info). Visit the Timber Trade Portal at
timbertradeportal.com
.