ITTO releases two new publications on the International Day of Forests
20 March 2015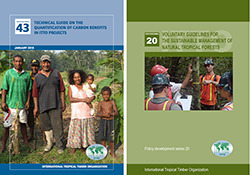 As part of celebrations for the
International Day of Forests
on March 21st 2015, ITTO has released two major publications to support continued progress towards sustainable forest management in the tropics.
The theme of the 2015 International Day of Forests is
Forests | Climate | Change
, designed to highlight the strong links between forests and climate change and to rally global support for forests as a way of mitigating and adapting to climate change. Both publications released today by ITTO address this theme.
The publication on "
Voluntary guidelines
for the sustainable management of natural tropical forests
"
updates ITTO's first policy guidance document on the management of natural tropical forests, which was published in 1990 to assist forest managers in planning, implementing and evaluating sustainable forest management in natural tropical forests to ensure the sustainable provision of forest goods and environmental services. The revised guidelines take advantage of the considerable new knowledge that has accumulated in the last 25 years and the emergence of a wide range of challenges and opportunities for sustainable tropical forest management, such as those posed and presented by climate change.
The publication on "
Technical guide on the quantification of carbon benefits in ITTO projects
"
provides step-by-step advice for forest managers in measuring the carbon benefits of their forest projects, thereby enabling them to take advantage of opportunities offered by REDD+ and other payment schemes for reducing forest-related carbon emissions and sequestering carbon in forests and long-life forest products. Although directed primarily at the managers of ITTO projects, this guide is also likely to help other forest managers in estimating and capitalizing on the carbon benefits of sustainable forest management.
In releasing these two publications on the International Day of Forests, ITTO joins other international, national and local organizations, as well as millions of people worldwide, in celebrating the importance of forests in the present and future wellbeing of our planet.