ITTO shares its experiences to improve statistical data collection in South Africa
11 December 2014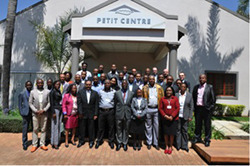 ITTO participated in a Regional Statistical Workshop convened by FAO in Johannesburg (South Africa) from the 25th to the 27th November 2014. The aim of the workshop was to improve data collection and statistics in the Southern African region and was attended by statistical officers from Angola, Botswana, Comoros, Eritrea, Lesotho, Madagascar, Malawi, Mauritius, Mozambique, Namibia, Seychelles, South Africa, Swaziland, Tanzania, Zambia and Zimbabwe. The Southern African Development Community (SADC) was also represented during the workshop as well as the African private sector through a representative of the South African Forestry Association.
The workshop focused on improvement of communication and data collection/validation between participating countries and ITTO/FAO. The workshop was also an opportunity for the ITTO/FAO statistical officers to clarify definitions of forest products covered by the Joint Forest Sector Questionnaire (JFSQ). Both Organizations emphasized the importance of consistent and reliable wood products statistics for forest policy/project formulation. The representative of the South African Forestry Association pointed out that reliable international data is critical for the private sector to consider possible foreign investment opportunities in neighboring countries. During the second day of the workshop participants visited the Mpact Ltd Springs mill (
http://www.mpact.co.za/our-products/paper-business/paper-manufacturing
), a paper manufacturer with a production capacity of 137,000 tonnes per annum. The paper produced by this mill meets diverse application and industrial requirements. The workshop provided an opportunity to strengthen international collaboration on data collection on wood products, reinforced FAO and ITTO joint efforts on data quality improvement and introduced ITTO and its work to several non-member countries in the region.
More information on the workshop is available on the FAO website (
http://www.fao.org/africa/news/detail-news/en/c/270693/
)