ITTO releases an on-line project search tool; making knowledge available with a few clicks!
1 September 2014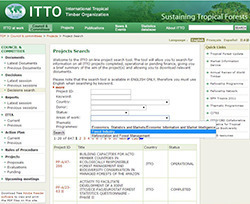 ITTO has just released an
on-line project search tool
, in order to further disseminate, capitalize and enhance the knowledge it has gained through the implementation of field projects in sustainable forest management (SFM) since it began operations in 1986. This information is now available at your fingertips on the
ITTO homepage
, with just a few clicks away.
The on-line project search allows public reference to all projects implemented with ITTO funding, as well as currently operational projects and projects seeking financing. For all the projects, a small summary of the aim of the project is provided, while for those projects which are on-going or were declared completed from the year 2000 and onwards –over 500– a set of outputs and other documents have been made available for download, including:
Project document,
Completion report (if relevant),
Technical report(s),
Ex-post evaluation report (if relevant),
Promotional material (posters, brochures, leaflets, etc.).
The project search tool also allows searching by specific parameters, which can be combined in order to refine the search, such as:
Project ID,
Keyword (this function not only searches the title but also in the summary of the project),
Country,
Donor,
Status (completed, operational or seeking financing),
Areas of work (economics, statistics and markets; forest industry; and reforestation and forest management), and
With the launch of the on-line project search tool, ITTO is taking a step further in enhancing knowledge-sharing and enabling its use among the various stakeholders of the tropical timber and tropical forest sectors.
The project search tool can be accessed at
http://www.itto.int/project_search/