ITTO project promotes better utilization of Peruvian Amazon forests
21 October 2013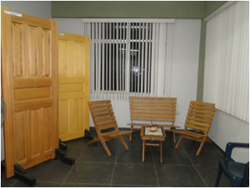 In 2011, ITTO financed the project PD 512/08 Rev.2 (I)
"Industrial utilization and marketing of ten potential timber species from secondary and residual primary forests"
in Peru. This project has provided information for the better management and utilization of secondary and primary forests of the Peruvian Amazon. To learn more click
here
to watch the video.
The project, executed by AIDER (Association for Integrated Research and Development), carried out physical-mechanical studies to determine the potential uses of ten tropical timber species which are abundant in the Peruvian Amazon, but that are rarely used due to the lack of knowledge of their properties. After the physical-mechanical studies were completed and the potential uses were determined, timber product prototypes were produced by local companies.
Some of the products manufactured include wood flooring, decking, wood packaging for high-end consumer goods, wood panels, doors, indoor furniture, garden furniture, sideboards, decorative panels, planks, wood packaging for agricultural produce, and decorative wood works.
Some of these prototypes have already been incorporated into the production lines of local forest industries in the department of Ucayali, thus incorporating these timber species into the economy, bringing financial benefits to the local population, and offering a wider range of products to the market.
The species studied by the project are:
Apeiba membranácea (Maquizapa ñagcha),
Apuleia leiocarpa (Ana caspi),
Brosimun utile (Panguana),
Croton matourensis (Aucatadijo),
Jacaranda copaia (Huamanzamana),
Matisia cordata (Sapote),
Septotheca tessmannii (Utucuro),
Schizolobium parahyba (Pashaco blanco),
Simarouba amara (Marupa), and
Terminalia oblonga (Yacushapana amarilla).
The project has been executed in cooperation with the National University of Ucayali (UNU) and local forest enterprises. It has therefore had a tremendous impact in the Ucayali region, as capacity building has been increased for local forest researchers and students, the research infrastructure for UNU's Faculty of Forestry has been improved, the economy of native communities and forest concessionaires has been improved as local demand for the timber species has grown, and the pressure on the forest has been reduced as there is a wider range of species to be harvested.
For more information on this project or to obtain a copy of the project's reports (Spanish only), please click
http://www.aider.com.pe/proyectos.html