ITTO UNCCD COP-11 event emphasizes contribution of forests to degraded land restoration
1 October 2013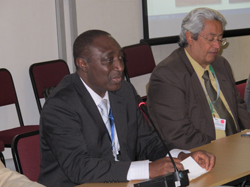 On 26 September, in conjunction with the Eleventh Session of the Conference of the Parties (COP 11) of the UNCCD convened in Windhoek, Namibia from 16-27 September, ITTO hosted a side event on "Forest Conservation and Restoration in Africa – Integrated Approaches to Sustainable Dryland Management." The event was jointly convened with the Secretariat of the United Nations Convention to Combat Desertification (UNCCD) and the Japan International Cooperation Agency (JICA).
Mr. Emmanuel Ze Meka, Executive Director of ITTO stressed in his keynote presentation that the international forest community can play a vital role in restoring and rehabilitating degraded drylands, particularly in Africa. He also introduced ITTO's work that is contributing to the restoration of both degraded tropical forests and degraded drylands, such as the development of "ITTO Guidelines for the Restoration, Management and Rehabilitation of Degraded and Secondary Tropical Forests" and the implementation of these guidelines in collaboration with the Global Partnership on Forest Landscape Restoration (GPFLR).
Presentations by experts working in the field in Africa followed the keynote, led by Dr. Dominic Blay, Principal Research Scientist of the Forest Research Institute of Ghana (FORIG). Dr. Blay, who has been engaged in the implementation of ITTO-funded forest rehabilitation projects in Ghana, emphasized several factors necessary to ensure successful restoration activities by local communities, including: clarification of roles and responsibilities of stakeholders (including local communities); continuous technical support from local authorities; and the collection of baseline data on local communities for future assessment of project impacts.
The presentations were followed by a panel discussion, with activeparticipation of all presenters and experts, as well as the audience. Several key factors contributing to the successful scaling-up of forest and land restoration activities were identified, including: use of simple and low-cost restoration methods which are easily practiced by the local people; involvement of the private sector to add value to the products which local farmers produce through agroforestry practices; and establishment of an institutional framework to support continuous restoration work by local communities.
All side event presentations are available on www.itto.int.