ITTO and CITES enhance cooperation
23 August 2013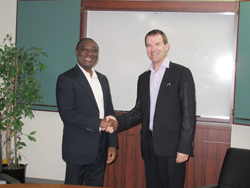 Officials from the CITES Secretariat visited ITTO headquarters in Yokohama on 22 August to review the implementation of the ITTO-CITES Programme for Tropical Tree Species and to discuss ways to enhance the existing cooperation between the two organizations.
The ITTO-CITES Programme is jointly implemented by the two Secretariats since 2007 with a budget of over $15 million providing support to countries to implement CITES regulation for listed tropical tree species.
Current activities under the Programme are taking place in Brazil, Cameroon, the Republic of the Congo, the Democratic Republic of the Congo, Indonesia, Madagascar, Malaysia and Peru with focus on non-detriment findings required for CITES Appendix II-listed species (including African cherry (
Prunus africana
), agarwood (
Aquileria
spp.,
Gyrinops
spp.), assamela (
Pericopsis elata
), big leaf mahogany (
Swietenia macrophylla
), ebony (
Diospyros
spp.), ramin (
Gonystylus
spp.) and rosewood (
Dalbergia
spp.)), improving forest inventories, harmonizing regulatory frameworks, and strengthening access to timely and reliable information on trade in listed species through tracking technologies.
Topics discussed during the meeting included priorities for Programme support over the next two years, joint activities/workshops and outreach activities to inform stakeholders about Programme outputs.