3 June 2013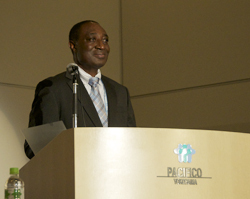 ITTO was actively involved in the Fifth Tokyo International Conference on African Development (TICAD V) held from May 31 – June 3 in Yokohama. TICAD V was attended by over 2000 delegates representing 51 of Africa's 54 countries as well as representatives of other countries, organizations, civil society and the private sector. Delegates included around 40 heads of state, numerous government ministers and ambassadors, the Secretary General of the United Nations and many other important dignitaries. The meeting celebrated the 20
th
anniversary of the TICAD process, initiated by the government of Japan in 1993 to contribute to African development, as well as the 50
th
anniversary of the Organization of African Unity (OAU). The plenary sessions of TICAD V were co-chaired by Japanese Prime Minister Shinzo Abe together with Ethiopian Prime Minister and African Union Chairperson Hailemariam Desalegn.
ITTO convened a side event together with the Japan International Cooperation Agency (JICA) on June 1 entitled "Efforts to advance sustainable management of African forests". During this side event, attended by over 100 participants, ITTO introduced and called for support for three project proposals designed to assist African member countries to progress towards sustainable forest management (SFM). These projects focused on promoting intra-African trade in forest products, improving management and security of protected forest areas, and improving monitoring, assessment and reporting on forests through the use of criteria and indicators for SFM.
ITTO's Executive Director Emmanuel Ze Meka was a featured speaker in a TICAD V thematic session entitled "Toward the post-2015 Development Agenda" chaired by UN Secretary General Ban Ki-moon on June 2. Mr. Ze Meka spoke on new and emerging challenges to the post-2015 development agenda with a focus on the role of Africa's forests in meeting such challenges. Following the thematic sessions, ITTO co-hosted a lunch for all TICAD V delegates together with the Kanagawa Prefecture government. The lunch, attended by over 600 people, included traditional Japanese performances as well as the signing of an agreement between ITTO, the government of Japan and the government of Côte d'Ivoire to allow implementation of a new ITTO project to rehabilitate forest lands degraded by civil war in Côte d'Ivoire.
For more information on ITTO and its programs and activities, go to
www.itto.int
. For more information on TICAD V, go to
www.ticad.net
.
>Agenda of ITTO-JICA side event
>Executive Director's side event speech
>ITTO-JICA side event presentations
>ITTO luncheon presentations
>Photographs