Seminar supports implementation of Japan's Clean Wood Act
10 May 2019, Tokyo, Japan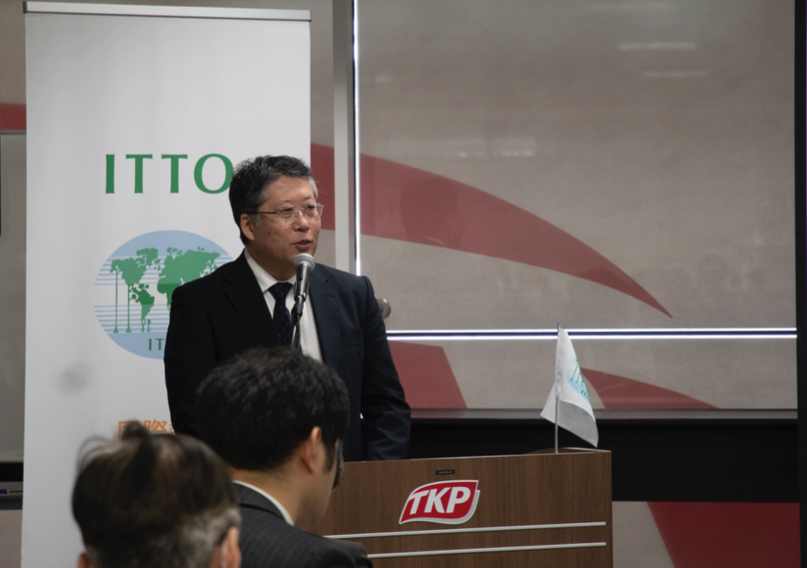 A one-day seminar held in Tokyo, Japan, in March generated information on the legal frameworks for timber production and trade in five tropical timber-producing countries to support implementation of Japan's Clean Wood Act. The Act, which was passed in 2016 and came into force in 2017, encourages companies to take measures to ensure the use of legally harvested wood and wood products.
Up-to-date information on timber legality is important for ensuring sustainable forests and businesses. The
workshop on promoting legal timber imports in Japan
, which was co-organized by ITTO and the Institute for Global Environmental Strategies (IGES) and convened on 8 March 2019, provided Japanese businesses with the latest information on wood production, legality systems, risks and mitigation measures in Brazil, Ecuador, the Lao People's Democratic Republic, the Philippines and Thailand.
Mr Shigeki Hata, Director of the Wood Products Trade Office at Japan's Forestry Agency, who opened the workshop, noted that Japan is now the world's third-largest wood importer. The number of companies that have voluntarily registered under the Clean Wood Act is increasing, he said, and the Forestry Agency has created an
online platform
to assist businesses in their overseas wood-purchasing policies. The platform already contains information on 19 timber-producing countries and regions, and Mr Hata said the Forestry Agency had commissioned ITTO to provide reports on five of these countries. He hoped this information would be useful for timber businesses.
Dr Steven Johnson, ITTO's Director of Trade and Industry, said that policy and laws are evolving rapidly in tropical timber producer countries, and obtaining up-to-date information is therefore imperative. Experts from IGES delivered reports on Brazil, Ecuador, the Lao People's Democratic Republic, the Philippines and Thailand, providing an overview of the forest sector in each country and their laws and regulations governing wood harvesting, transportation, processing, imports and exports. The presentations identified legality risks and key points for mitigating these risks.
Brazil's report noted that planted forests account for only 1.5% of the country's total forest area but produce five times more industrial roundwood than natural forests. The main planted species are eucalyptus and pine and the main export to Japan is woodchips. There are five legal patterns of wood production and supply, each with specific regulations and documentation that apply across supply chains. State governments can issue their own regulations. Brazil is trialling a national online management system known as SINAFLOR (
Sistema Nacional de Controle da Origem dos Produtos Florestais
) for controlling the origin of forest products, covering harvesting, transportation, processing and trade.
The report from Ecuador noted that roughly 40% of the country's forests are under state ownership, 6% are under private ownership, and tenure is unclear for the remainder. The main industrial tree species are balsa, eucalyptus and pine, although about 120 species harvested in the country's natural Amazonian forests also enter domestic markets. Ecuador imports pulp and paper and exports eucalyptus chips to Japan along with a small volume of sawnwood. Domestic wood sources include private planted forests, natural forests on private land, and agroforestry. Regulations and procedures apply to each source as well as to transportation, processing and export.
The report from Lao PDR noted that a ban on logging in natural forests is in place; there is no established chain of custody for downstream processing, however, making traceability a challenge. The country is negotiating with the European Union under its Forest Law Enforcement, Governance and Trade programme. Charcoal is the main wood export from Lao PDR to Japan.
A natural-forest logging ban is also in place in the Philippines, and wood production is mostly from plantations of fast-growing species such as falcata (
Paraserianthes falcataria
). The Philippines exports value-added products to Japan, including furniture, the raw material of which may come from imported logs, sawnwood and plywood. The country is considering developing a timber legality assurance system.
Thailand also has a ban on logging in natural forests, and rubber and eucalyptus are the main planted species. Permits and procedures for timber harvesting, transportation, processing and export differ according to the classification of use rights and whether species are "restricted". Processing plants are not required to document the origin of wood, making it difficult to trace products back to the source. Thailand exports mainly woodchips and wood furniture to Japan.
Examples of the documentation available to businesses to help check the legality of wood and wood products were presented for each of the five countries.
Visit the
Clean Wood website
for more information (in Japanese).
Country reports are avialable for download.
Disclaimer: Consultants prepared the country reports below and submitted them to ITTO as part of a project funded by Japan's Forestry Agency.