ITTO launches project on sustainable teak management in Greater Mekong Subregion
23 April 2019, Bangkok, Thailand,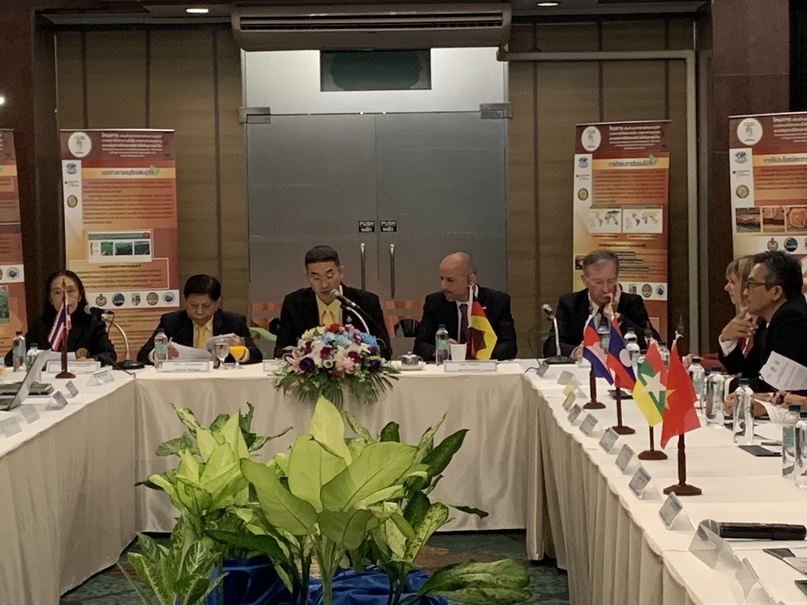 The sustainable management of teak forests and the nurturing of legal and sustainable supply chains can make valuable contributions to the Sustainable Development Goals in the Greater Mekong Subregion, according to speakers at the launch of an ITTO teak project in Bangkok, Thailand, on 23 April 2019.
Teak (
Tectona grandis
) is one of the world's most valuable hardwoods because of its outstanding physical and aesthetic qualities. Natural or planted teak forests are found in about 70 tropical countries in Africa, Asia and Latin America, and teakwood production and processing have enormous potential to contribute to the livelihoods of local communities and the economic development of nations. The Greater Mekong Subregion is the origin of the world's teak genetic resources, and the Lao People's Democratic Republic, Myanmar and Thailand have important natural teak forests.
The ITTO project (technically an activity in the Biennial Work Programme), "Enhancing the conservation and sustainable management of teak forests and legal and sustainable wood supply chains in the Greater Mekong Subregion", is funded by the Government of Germany. Among other things, it will assist the five participating countries—Cambodia, the Lao People's Democratic Republic, Myanmar, Thailand and Viet Nam—to conserve unique natural teak forests and their gene pools; increase incomes for forest communities and smallholders; improve wood processing and marketing; and enhance regional collaboration and coordination in teak management.
Speaking at the project launch, Professor Sanit Aksornkoae, Senator of Thailand's National Assembly, said the economic, social and conservation values of sustainable forest management (SFM) are huge, and integrated SFM plans are essential for Thailand's economic development. He thanked ITTO for its long partnership with Thailand and other countries in the Greater Mekong Subregion to increase capacity in SFM. The Thai Government, he said, had enacted a number of forest and land-related laws in recent years to enable farmers to obtain higher returns from their planted forests.
"We need to promote sustainably produced wood products both for local consumption and for export for increased economic and social welfare and also for enhanced environmental contributions towards global climate-change action," said Senator Aksornkoae.
ITTO Executive Director Dr Gerhard Dieterle thanked the Government of Germany and its Ministry of Food and Agriculture, as well as the governments and institutions in the five participating Mekong countries, for their commitment to the establishment of legal and sustainable wood supply chains in the Greater Mekong Subregion through ITTO. The aim of ITTO's Legal and Sustainable Supply Chains Programme, he said, is to assist tropical countries in pursuing enabling policy, institutional and financial conditions and incentives in a coherent and forward-looking way.
Dr Dieterle said the teak project would give practical effect to the recommendations of the Special Report of the Intergovernmental Panel on Climate Change, which was published in October 2018.
"Sustainably produced wood has a demonstrated capacity to assist in the transition towards a circular bioeconomy, from the tree in the forest to the shelves of finished products in the market," said Dr Dieterle.
Mr Athapol Charoenshunsa, Director General of Thailand's Royal Forest Department, said the Royal Thai Government had recently amended six forest-related laws to enhance local people's participation in the co-management of forest resources to meet their needs and wellbeing and to assist in achieving the national target of maintaining at least 55% of the country's land area as forest. Mr Charoenshunsa said that, under the 2019 Forest Plantation Act, trees—including teak—planted on private property and in permitted areas would no longer be listed as protected but would rather be regarded as "economic species", thus permitting tree owners to harvest them.
"The ITTO teak project is highly relevant to the Greater Mekong Subregion and has started at the right time to support the National Policy on Green Growth Economy towards the expansion of production forests in Thailand," said Mr Charoenshunsa.
Dr Ludawan Puagchit, Vice President of Kasetsart University, said she appreciated the opportunity for her university to join the ITTO teak project. The involvement of academic institutions in government programmes of this nature would not only help improve the quality of implementation, she said, but also provide new opportunities for staff to take part in research and development activities of international importance.
Mr Jan Scheer, Deputy Head of Mission and Head of Economic Section, German Embassy to Thailand, said that, over the years, the highly valuable teak forest resource had declined both in quality and extent and may further decline unless urgent steps are taken. He recalled the long life of teakwood furniture products and stressed the importance of promoting the economic development and climate-change benefits of sustainable teak management. Mr Scheer said the ITTO teak project would play an important role in the region, and he called for ambitious action, an inclusive approach and greater regional cooperation to ensure project success and to increase the benefits accruing to local communities and smallholders.
Ms Silke Hertrich, German Federal Ministry of Food and Agriculture, said the key to success was regional cooperation and good communication. There was clear political will in Germany to support efforts towards SFM, she said. The project would contribute to the sustainable use of a valuable resource through legal supply chains as well as to climate-change mitigation and the conservation of genetic resources. Ms Hertrich said she looked forward to close regional collaboration in implementing the project in the Greater Mekong Subregion.
Dr Suwan, from Thailand's Royal Forest Department, said more research and development, partnerships and networking for the
in situ
and
ex situ
conservation of teak genetic resources was essential for ensuring the sustainable management of teak forests in the subregion.
The project's steering committee held its first meeting on 23 April. It will host a regional capacity-building workshop on the sustainable management of teak forests in October 2019 in Myanmar.