ITTO and Honduras sign project agreement on lesser-used timber species
16 April 2018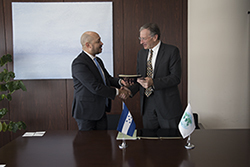 ITTO and the Honduran government signed an agreement on the implementation of a project to improve the silviculture, marketing and use of 12 lesser-used timber species abundant in the Honduran Caribbean on Monday, the 16th April 2018. The aim of the project is to shift the forest sector away from traditional selective logging and promote sustainable forest management covering a broader range of tree species.
Until now, forest harvesting in Honduras has focused on a few high-value timber species, such as mahogany (
Swietenia macrophylla
), cedar (
Cedrela odorata
) and granadillo (
Dalbergia retusa
), putting pressure on these species, causing negative ecological impacts and reducing the potential economic benefits of forestry.
The Honduran national forest agency (
Instituto Nacional de Conservación, Desarrollo Forestal, Areas Protegidas y Vida Silvestre
) will implement ITTO project
PD 770/15 Rev.1 (I)
: "Promotion and sustainable management of lesser-used species in the moist forests of the departments of Atlantida, Colon and Northern Olancho" with the aim of improving the management of the country's Caribbean forests and diversifying the range of species harvested in them.
The project agreement signing was attended by the Honduran Ambassador to Japan, HE Héctor Alejandro Palma, and ITTO Executive Director, Dr Gerhard Dieterle, at ITTO headquarters in Yokohama.
Species such as piojo rojo (
Tapirira guianensis
), rosita (
Hyeronima alchorneoides
), marapolán (
Guarea grandiflora
), santa María (
Symphonia globulifera
), san Juan areno (
Ilex tectonica
), huesito (
Macrohasseltia macroterantha
), paleto (
Dialium guianensis
) and san Juan colorado (
Vochysia ferruginea
) are relatively abundant in the Honduran Caribbean, but they are undervalued and underused. Many of these species have comparable properties to those of high-value species, however, and could form the basis of an ecologically and economically sustainable forest industry.
The project will create a national strategy on lesser-used species and strengthen local and institutional capacity to ensure that such species are managed and marketed sustainably. A co-benefit of project activities may be an improvement in the regeneration of traditional species that have been logged intensively in the past.
It is expected that diversifying the species used in the wood sector will help increase the incomes of forest communities in the Caribbean region and benefit forest producers, agroforestry groups, indigenous community groups (Garifunas and Pech), and municipalities in the region.