Forest knowledge key to averting disastrous climate change
27 October 2018, Beijing, China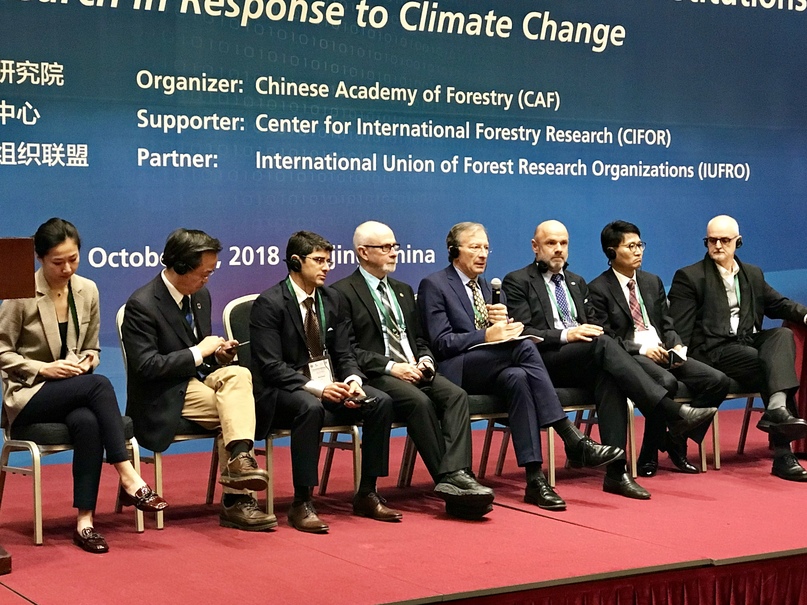 Tropical forests and substitute wood products are crucial for reducing global greenhouse gas emissions to the level required to restrict global temperature rise to less than 1.5 ˚C, but more knowledge and capacity is needed, according to ITTO Executive Director Gerhard Dieterle.
"The world can only achieve the 2030 Sustainable Development Goals and the 2050 target of a 1.5 ˚C temperature increase if we radically reduce the consumption of non-renewable products and energy," said Dr Dieterle. "Forests and substitution by wood products have the potential to close this mitigation gap. I firmly believe that together we can make a significant contribution."
Speaking at the International Workshop for Heads of Forest Research Institutions, which took place in Beijing last week as part of celebrations to commemorate the 60th anniversary of the Chinese Academy of Forestry, Dr Diertele said more knowledge is needed on how to realize the huge potential of tropical productive forests to help avert a disastrous rise in global temperature.
"In particular, there is a great need and demand to close the knowledge gap for sustainable forest management and production as well as for forest landscape restoration through joint international training in forestry for ITTO producer members and other developing countries," he said.
Tropical productive forests have huge potential to contribute to the achievement of the Sustainable Development Goals in a range of ways, said Dr Dieterle, such as by generating rural employment, producing biofuels, sequestering carbon, producing renewable products, assisting in food security, and helping maintain water supplies.
Dr Dieterle congratulated the Chinese Academy of Forestry on its 60th anniversary, acknowledging the Academy's valuable contributions to forest knowledge and its considerable expertise in sustainable forest management and in forest industry and trade. He spoke of the 30 years of fruitful collaboration between ITTO and the Academy: for example, most of the 40 or more projects financed by ITTO in China have benefited from the Academy's technical assistance and support, and the Academy, in turn, has made invaluable contributions to ITTO's work.
Dr Dieterle recognized China's success in reducing its timber supply gap by massive reforestation and forest restoration, its work towards self-sufficiency, and its private-sector initiative to establish a platform for green supply chains.
"Producers in tropical countries are struggling to meet the demands from markets for legal and sustainable products, and signals from the market are a very efficient stimulus for change," he said.
"In this context I believe that our collaboration in support of the Global Green Supply Chain Initiative by leading Chinese private-sector enterprises will be a further milestone in our partnership as it is transformative in nature. There is a great need to close the information, knowledge and skill gaps to make it a success. Together, we can do it."
Follow our social media post on the workshop and on the 60th anniversary of the Chinese Academy of Forestry on
Facebook
,
Instagram
and
Twitter
.