Bamboo treatment facility opens in Indonesia
4th April 2018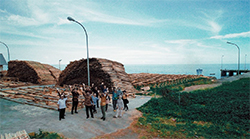 A new bamboo treatment facility in East Nusa Tenggara Province, Indonesia, will help local communities boost incomes by adding value to their bamboo products. The facility, which was developed with ITTO's technical and financial support, will increase the longevity of bamboo products using a non-chemical, environmentally friendly preservation treatment.
Preservation treatment is a basic step in the industrial use of bamboo, and the opening of the facility is a major boost, therefore, to the local economy. It will enable producers to add value to products, thereby increasing employment, market access and rural incomes and promoting the sustainable management of bamboo resources in the region.
The treatment facility is an output of ITTO project
PD 600/11 Rev.1 (I)
: "Model Capacity Building for Efficient and Sustainable Utilization of Bamboo Resources in Indonesia". This project is being carried out in collaboration with the Forestry and Environmental Research, Development and Innovation Agency in Indonesia's Ministry of Environment and Forestry and the Environmental Bamboo Foundation.
Indonesia has a long history and tradition in the use of bamboo for houses, furniture, handicrafts and musical instruments. Bamboo sequestrates carbon, making it an environmentally friendly, renewable material. The treatment facility is attached to a bamboo field-learning centre that includes nurseries, demonstration plots and a traditional bamboo music school. The aim of the centre is to assist local communities in Nusa Tenggara Province to add value to and better manage their natural resources. It could be replicated elsewhere in Indonesia as part of the government's "1000 bamboo villages" programme, which is designed to support the development of a thriving national bamboo industry. The establishment of bamboo preservation centre also involves the participation of women as landowners and as decision-makers on the use of land and its resources, including bamboo.
The smoking preservation technique used by the facility, "ECO-SOTE", is carried out in chambers that heat bamboo culms to high temperatures; smoke is used to break down the starch within the bamboo, thereby making it immune to insect attack and extending its life. The treatment also blackens the bamboo. The preservation facility can process 60 bamboo culms (each up to 15 cm in diameter and 6 m in length) every six hours (about 14 m
3
per lot). The facility will provide jobs that benefit 70 households.
Treated bamboo will increase market access, with communities able to sell their value-added products to CV Indobamboo, a company that produces strand-woven lamination and glued lumber bamboo. Bamboo will be sourced from around 4000 hectares of community bamboo forest in Golewa Sub-District, Ngada District, East Nusa Tenggara Province.
The opening ceremony for the bamboo treatment facility took place on 22 March 2018. It was headed by Dr Syaiful Anwar, Director of the Center for Social Economy Policy and Climate Change Research and Development, on behalf of Dr Agus Justianto, the Director General of FOERDIA.
To learn more about ITTO project PD 600/11 Rev.1 (I), visit
ITTO's project search
, the
project website
and the project's
Facebook
page.