ITTO Executive Director calls for more investment for "transformative action" on forests
23 May 2023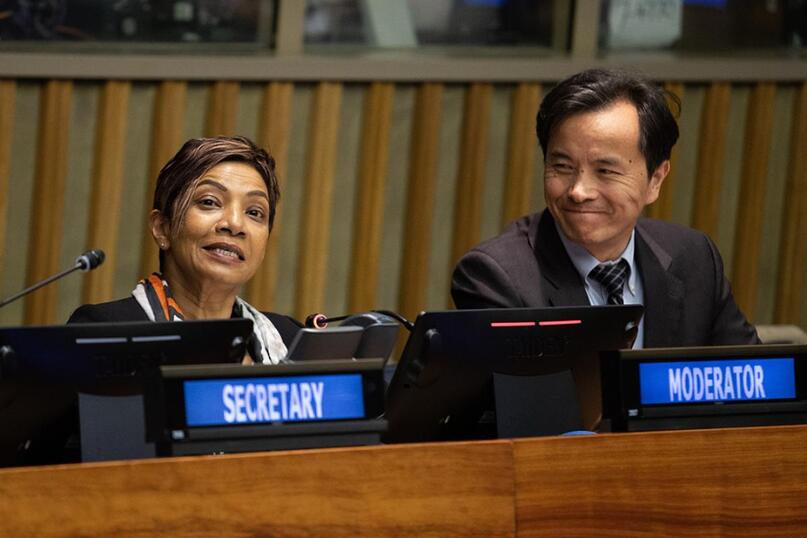 Yokohama, Japan, 23 May 2023: ITTO Executive Director Sheam Satkuru stated forest investments must be scaled up to recognize the true value and centrality of forests, particularly tropical forests, in providing diverse products, benefits and services. She was speaking at the Panel on Transformative Actions held during the 18th Session of the United Nations Forum on Forests (UNFF) on 9 May 2023.
As the moderator of the UNFF 18 panel which included multilateral and regional funding institutions and banks, Ms Satkuru facilitated discussions on the transformative actions that countries, organizations and stakeholders need to take to ensure achievement of the UNFF thematic priorities by 2030, as set out in Global Forest Goals 2, 3, 4, 5 and 6.
Ms Satkuru highlighted the linkages between the Global Forest Goals and targets and the Sustainable Development Goals, as well as other international commitments including the Kunming-Montreal Global Biodiversity Framework.
The panel members – Ulrich Apel (Global Environment Facility), Mikko Ollikainen (Adaptation Fund), Vanessa Ushie (African Development Bank) and Qingfeng Zhang (Asian Development Bank) – focused on the various important and innovative activities their organizations are undertaking to encourage forest financing. They confirmed that, although financing for forests has increased in recent years, much work still needs to be done to harness adequate financing for achieving global commitments in forestry, biodiversity conservation, and climate-change mitigation and adaptation.
More information on the panel discussion is available at the UN Meetings coverage and Earth Negotiations Bulletin.