Celebrating the International Day of the Tropics—the critical importance of tropical forests
29 June 2022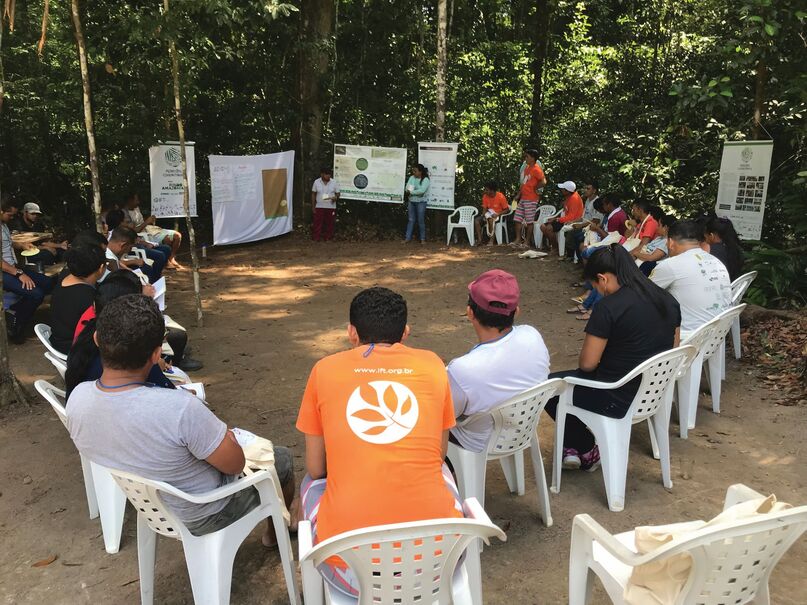 Yokohama, Japan, 29 June 2022: The tropics are home to extraordinary forests with the largest and most complex biological and cultural diversity while functioning as huge carbon stores. In celebration of the International Day of the Tropics, we describe some of ITTO's work in three vital and vast tropical forest ecosystems—the Amazon, the Congo Basin and Southeast Asia.
In the Amazon, an ITTO Fellowship helped Ana Luiza Violato Espada convene a community exchange and facilitate social learning in six extractive reserves. Community forestry plays an important role in timber supply and forest conservation in Latin America, according to Ms Violato.
"Multiple-use forest management, [including] logging on community land, is an important component of forest production, local economies and conservation agendas," she said.
The community exchange enabled discussions and reflections on sustainable tropical timber production on Amazonian communal lands under the auspices of scientific research and created spaces for dialogue and community empowerment. It showed that the participation of community members in all stages of the decision-making process is vital for the three dimensions of sustainability (i.e. social, economic and environmental) and for conservation, community development and timber management. Read more here.
In the Congo Basin, a regional-scale ITTO project boosted forestry education and assisted in closing the gap between labour markets and educational curricula. The project, which was implemented by the Network of Forestry and Environmental Training Institutions in Central Africa (RIFFEAC), enabled the development of harmonized training modules; the training or retraining of nearly 300 trainers; the development of significant infrastructure; the provision of equipment for field studies; and an overall improved learning environment for forestry students. It also leveraged further funding to continue RIFFEAC's work to improve forestry education and training in the subregion.
"The support provided—capacity building for teachers, rolling stock, information technology and forestry equipment—through the ITTO project has allowed us to reduce the gap between theory and practice, thereby improving professionalization," said Professor Jean-Pierre Mate Mweru at the Regional Postgraduate School for Integrated Development and Management of Tropical Forests and Land.
Read more about the project here.
In Southeast Asia, an ITTO transboundary project has improved the conservation and management of the Emerald Triangle Protected Forests Complex, which is part of the Indo-Burma biodiversity hotspot and one of the world's most important centres of biodiversity. A common transboundary management framework was developed by a multinational team for a group of protected areas along the borders shared by Cambodia, the Lao People's Democratic Republic and Thailand. The project experiences have been documented in an ITTO publication, The Bright Green Hot Spot.
Despite international recognition of the crucial role of tropical forests, threats to them continue, with deforestation driven largely by the quest for land for agriculture, energy, mining and transportation infrastructure. ITTO Executive Director Sheam Satkuru stated that the International Day of the Tropics should remind the world that sustainable tropical forestry is a crucial strategy for conserving and sustainably using forests.
"Forest-based communities play important roles in protecting and sustaining forests around the world," she said. "Decision-making processes that involve and engage local people are crucial for creating commitment towards forest conservation, as are collaborative international efforts reflecting and appreciating the true contributions of tropical forestry to mankind."