African forest experts endorse "new beginning" for SFM monitoring
14 October 2021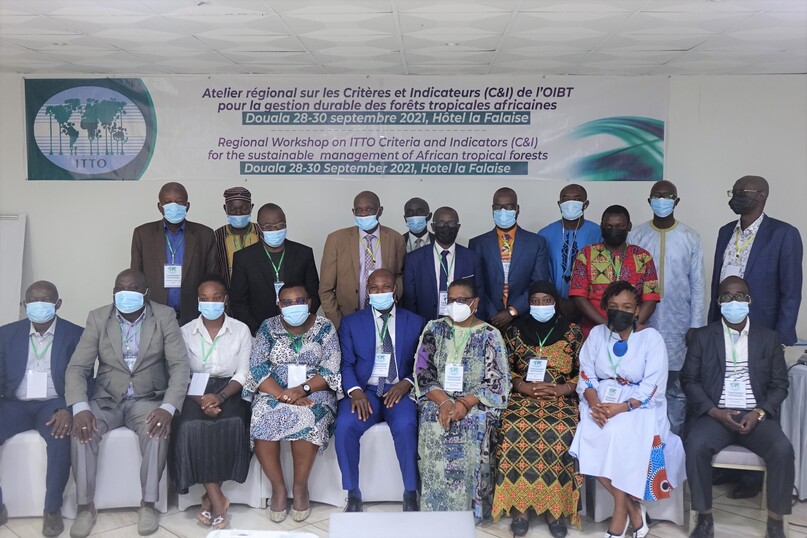 Yokohama, 14 October 2021: A workshop involving about 30 African forestry experts has validated a draft new version of the ITTO criteria and indicators for the sustainable management of African tropical forests, which, according to participants in a statement, marks a new beginning for the monitoring of sustainable forest management (SFM) in Africa.
The workshop, which was convened in Douala, Cameroon, on 28–30 September 2021, was attended by forest administrators in ITTO African member countries and representatives of the private sector and civil society. The aim was to revise the Principles, Criteria and Indicators for the Sustainable Forest Management of African Natural Forests developed previously by the African Timber Organization and the International Tropical Timber Organization to ensure it conforms with recently published ITTO policy documents, such as the ITTO Environmental and Social Management Guidelines and the Guidelines for forest landscape restoration in the tropics.
The workshop discussed a revised set of harmonized criteria and indicators for sustainable forest management in Africa developed by consultants Richard Atyi Eba'a and Olivier Ahimin. Amendments to update the criteria and indicators made at the workshop included:
Expanding the scope beyond the permanent forest estate to be applicable at the landscape level.
Separating planning indicators from those for implementation and monitoring.
Separating indicators for timber from those for non-timber forest products and environmental services.
At the conclusion of the workshop, participants made several recommendations, including the following:
Countries should systematically assess the implementation of SFM using the new ITTO Criteria and Indicators for the Sustainable Management of African Tropical Forests and report on the progress made.
Countries should incentivize those forest companies shown to have adopted SFM, based on audits conducted using the ITTO C&I.
ITTO should produce a user manual for the new C&I.
Participants thanked ITTO and the Government of Cameroon for convening the workshop.
Downloads available below for the workshop presentations and the communiqué final (available in French) and photos of the workshop.