Status of Tropical Forest Management 2005
Latin America & the Caribbean
Trinidad & Tobago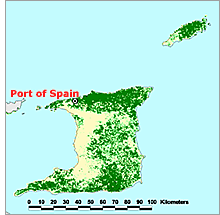 Trinidad and Tobago's strong tradition in forest management means that SFM has a good footing in the country; however, significant institutional and policy weaknesses could see the deterioration of this tradition unless remedial measures are takenb. Both natural forests and plantations are affected by over-harvesting, encroachment, fires and other forms of damage, although the extent of these has not been quantified and police patrols probably help reduce illegal activities. There appear to be few social conflicts over forest use, and stronger community involvement in forest management has been foreshadowed.
Key points
The PFE comprises an estimated 142,000 hectares of production forest (including just over 15,000 hectares of plantations) and 59,000 hectares of protection forest.
Most timber production derives from planted forests; the main species are teak and Caribbean pine.
At least 15,000 hectares of natural-forest production PFE are being sustainably managed.
The country has yet to develop a workable set of C&I for SFM suited to its special needs.
Individually licensed loggers are able to cut a specified number of trees or volume as defined by the Forestry Division. In many cases this may have amounted to a 'logger's selection system'.
Trinidad and Tobago imports round logs and squares from neighbouring Guyana and Suriname for local processing; it is a net importer of timber.