Status of Tropical Forest Management 2005
Asia & the Pacific
Malaysia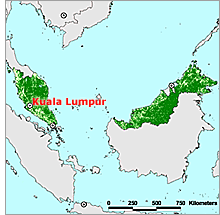 Malaysia's forests are generally well managed, although there are differences between Peninsular Malaysia, which has the strongest approach, and Sabah and Sarawak; however, all regional forestry administrations are committed to achieving SFM. The forest sector plays an important role in the Malaysian economy and is a significant employer. Already a major producer of value-added, wood-based products in the world market, this part of the sector is likely to continue to grow. A large part of its furniture manufacturing is based on rubberwood, which is grown in plantations, while much of the harvest from natural forests is still exported as plywood, sawnwood and logs. Well-organized and resourced forestry administrations at both federal and state levels have the capacity to ensure that concessionaires adhere to prescribed practices and to oversee the long-term management of the resource.
Key points
Malaysia's PFE comprises 11.2 million hectares of natural production forest, 183,000 hectares of plantations and 3.21 million hectares of protection forest.
At least 4.79 million hectares of natural-forest production PFE are estimated to be under SFM; the estimated area of protection PFE so managed is 3.21 million hectares.
Deforestation within the PFE is insignificant, but there is degradation in some forest areas.
Malaysia is a federation and forestry is under the jurisdiction of the states. Thus, the implementation of the national forest policy requires a cooperative approach by the state and federal authorities, which is done primarily through the National Forestry Council.
At the federal level, the division of responsibilities between the Ministry of Natural Resources and Environment and the Ministry of Plantation Industries and Commodities poses a coordination challenge.
Managing relations between indigenous communities and concession companies needs further attention.
All timber harvesting and related management operations are carried out by contractors operating on the basis of either a long-term logging agreement (concession) or a short-term licence.
In Sabah, FMUs of 100,000 hectares each have been established and 100-year forest management agreements offered to forestry companies.
Certification of forest management is well advanced in Peninsular Malaysia and is expected to increase in Sabah and Sarawak.
There is a well-established protected-area system in place covering 16.3% of the total land area. Nevertheless, there is a need to establish better coordination between the federal government and the states in wildlife management and environmental conservation.