Status of Tropical Forest Management 2005
Africa
Côte d'Ivoire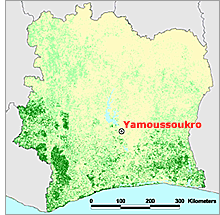 Côte d'Ivoire's 230 state-owned classified forests (forêts classées) have been over-harvested and have become depleted of timber; natural forests in the rural zone (domain rural) and planted forests are providing an increasing part of the timber supply. Institutional responsibility for forestry administration has changed several times in recent years, with the likely result of reducing administrative effectiveness. The level of enforcement of existing laws and decrees appears to be low in much of the PFE. Forest management plans are under preparation or have been prepared for the forest reserves, but few have been prepared for the domain rural. Illegal logging and deforestation are thought to be widespread, exacerbated by civil unrest.
Key points
Côte d'Ivoire has a relatively low forest cover which continues to diminish.
The country has an estimated 4.30 million hectares of PFE, comprising 3.40 million hectares of natural production forest, 167,000 hectares of industrial timber plantations and 734,000 hectares of protection forest.
The estimated area of production PFE under SFM is 277,000 hectares, which is about one-quarter of the forest reserves covered by management plans. About 150,000 hectares of protection PFE are considered to be so managed.
Forestry administration is currently the responsibility of the Ministry for Water and Forests (MINEF), which operates under a 1965 forest code and subsequent decrees. A process to revise the code is under way.
Ten regional offices are responsible for forest protection and law enforcement. SODEFOR, a government corporation, manages the forest reserves and provides advisory services.
MINEF and SODEFOR employ 2,000 people combined.
Concession-holders are obliged to present a forest management plan that includes a reforestation scheme and social investments for the rural population living in or adjacent to the forest.
There is a discrepancy between the standards applied in the forest reserves of the PFE and in the domaine rural.
There is conflict between communities and harvesting operators over the use of forests.
Poaching is believed to be a significant problem.