Address forest degradation to move forward on REDD+, says ITTO Executive Director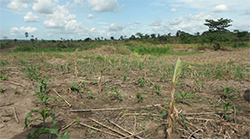 REDD+ should pay more attention to combating forest degradation, which is now the biggest cause of greenhouse gas emissions in tropical forests, according to ITTO's Executive Director, Dr Gerhard Dieterle.
Speaking at an international seminar in Tokyo, Japan, this week, Dr Dieterle said that directing REDD+ funds towards sustainable forest management (SFM) and sustainable value chains in the tropics could bring about a globally significant reduction in greenhouse gas emissions not only in the forests but through substantial substitution of non-renewable resources in products and energy. The combined mitigation effects from SFM and use of wood-based materials and energy will add a new dimension in the fight against global warming –and indispensable contribution to close the mitigation gap.
"While deforestation has been the subject of considerable global deliberation, forest degradation had been underestimated," he said. "Forest degradation makes a major contribution to greenhouse gas emissions and reduces the capacity of forests to supply essential goods and services and mitigate climate change. In our view, forest degradation is a significant omission from the international forest regime and needs urgent attention."
Dr Dieterle said that forest degradation is more challenging to address than deforestation because it occurs in dispersed patterns across large areas of land and is more difficult to assess reliably. For this reason, forest degradation should be addressed on many fronts, including—but not limited to—REDD+ projects.
Innovative ways to address both deforestation and forest degradation should also come from the demand side, said Dr Dieterle. "Value supply chains can play a crucial role in incentivizing good practices for SFM, production, marketing and use of timber and other forest products."
The 2018 International Seminar "Key to expand REDD+, approaches and challenges learned from practices in the field" took place in Tokyo on 7 February 2018. It was organized by Japan's Forestry and Forest Products Research Institute in collaboration with ITTO. Among other things it explored the measurement of emission reductions, REDD+ activities in Japan and Peru with the participation of private sector, and future challenges for REDD+. The seminar also hosted an expert meeting on REDD+ on 6 February, at which ITTO provided insights into its work on addressing forest degradation in the tropics.
Follow social media posts on the seminar:
Facebook
and
Twitter
Visit the seminar site for more information
Download ITTO's presentation at the expert meeting below.