Forests as vital as food: international conference on forest governance opens
24 October 2017, Tokyo, Japan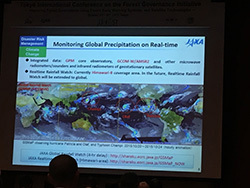 Forests should be viewed in the same way as food security because they are vital for ensuring human livelihood needs and security as well as planetary well-being, according to ITTO Executive Director, Dr Gerhard Dieterle. "It is urgent, therefore, to develop sustainable, innovative and efficient ways to provide wood and services to the world's growing population," he said. Among other things, this requires an adequate system of forest governance and monitoring.
Dr Dieterle made these remarks in his keynote address at the Tokyo International Conference on Forest Governance Initiative, which commenced today with the aim of tackling illegal logging in the tropics through satellite technologies and improved governance.
The conference, which is co-organized by the Japan International Cooperation Agency (JICA), the Japan Aerospace Exploration Agency (JAXA), Japan's Forestry Agency and ITTO, has more than 110 international and domestic participants.
In his address, Dr Dieterle highlighted the role of productive forests in tackling deforestation and forest degradation and in achieving the Sustainable Development Goals (SDGs). He pointed out that afforestation, reforestation, restoration, enrichment planting and the substitution of other materials by wood are activities that can have positive impacts on the economies of timber-producing countries while also helping to mitigate climate change.
Dr Dieterle proposed strategic approaches to harness the role of productive forests, such as the protection of high-biodiversity forests; the restoration of degraded multi-purpose landscapes; investing in productive forests for timber, pulp and energy; managing forests more efficiently; and promoting green supply chains in both domestic and international timber markets. Innovative ways for incentivizing investments in productive forests should be explored for the implementation of the approach, he said.
The opening day of the conference also featured a range of other keynote speakers.
Mr Koji Makimoto, Deputy Director-General of Japan's Forestry Agency, highlighted the active role of Japan in promoting forest governance through concrete actions. For example, the country recently enacted a law to promote legally harvested timber and timber products in the Japanese market and is supporting the use of timber-tracking technologies and the satellite monitoring of forest cover.
Ms Noriko Suzuki, JICA Senior Vice President, noted that two years have passed since the adoption of the SDGs and, although no one denies the importance of forests, large forested areas are still disappearing due to human activities.
Satellite technologies such as ALOS (Advance Land Observing Satellite) allow the year-round monitoring of forest cover, even under cloudy conditions, said Ms Suzuki. A concrete example was the use of such technology in JJ-FAST (the JICA–JAXA Forest Early Warning System in the Tropics) for detecting deforestation and illegal logging in Brazil, which greatly helped reduce the deforestation rate in the country.
JJ-FAST is freely available and can be used on desktop computers and mobile devices, said Ms Suzuki. She concluded that addressing deforestation is relevant to many of the SDGs and will help achieve a "world with no one left behind". The key is to combine country efforts, technologies and partnerships.
HE Dr Amy Ambatobe Nyongolo, Minister of Environment and Sustainable Development of the Democratic Republic of the Congo (DRC), noted in his keynote speech that about 70% of DRC's population depends on forests for their livelihoods. Good information is vital for enabling conservation, effective forest management and economically important forest activities, said Dr Nyongolo, and he welcomed systems such as JJ-FAST to ensure the gathering of valuable forest data.
Dr Nyongolo was followed by Mr Etienne Yoyo, the Republic of the Congo's Director General of Forest Economy in the Ministry of Forest Economy, who spoke along similar lines.
Professor Teruyuki Nakajima, Director of JAXA's Earth Observation Research Center, presented an overview of JAXA's earth observation programme and the organization's latest technological developments.
Over the next two days, the conference will hear presentations on the use of satellite technologies and forest governance, including from Brazil, Botswana, DRC, Gabon, Indonesia, Peru, Tanzania and Viet Nam and organizations such as the Central African Forests Commission, the Food and Agriculture Organization of the United Nations, Global Forest Watch, the International Union of Forest Research Organizations, JICA, and the United Nations Framework Convention on Climate Change. Specialist panels will also be convened.
More information on the conference is available at
www.itto.int/workshop_detail/id=5238